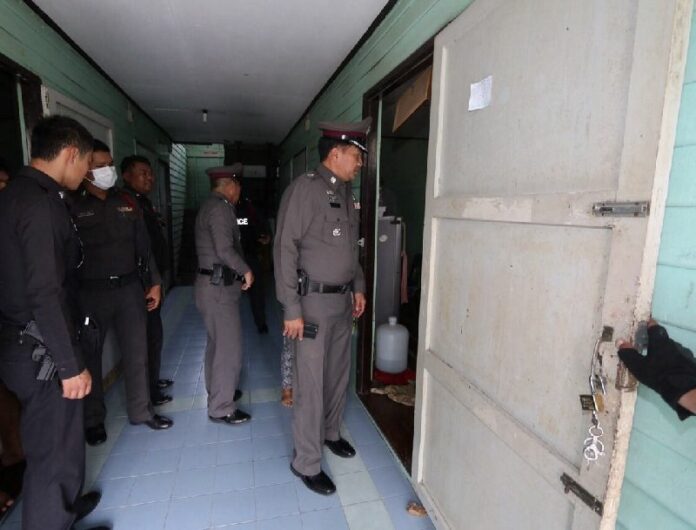 NARATHIWAT — A Thai national has been arrested in the Deep South in connection with last month's Erawan Shrine bombing, according to unconfirmed reports.
Police sources say on Tuesday evening, officers from the 36th Task Force apprehended Gamarudeng Saho, a 38-year-old native of Narathiwat province's Sugai Kolok district, after officers found a link between his phone and bombing suspect Wanna Suansan.
Officers reportedly used special authority granted under martial law to detain him and send him to the 46th Ranger Division for interrogation, whereupon he was sent by helicopter to an army base in Bangkok for further interrogation.
A Yawi interpreter has been provided to Gamarudeng, sources say.
Two other men arrested in recent days also remain in military custody in Bangkok for questioning. One was captured in a raid in the eastern outskirts of the capital while the second was taken into Thai custody Tuesday along the border with Cambodia.
Read: Mounting Evidence Links Bombing to Turks, Uighurs
Thai authorities have implicated at least four Turkish nationals as suspects in the 17 Aug. attack, which killed 20 people, 14 of which were visiting foreign nationals at the popular shrine located in the cosmopolitan heart of the Thai capital.
Turkey's Ministry of Foreign Affairs issued a statement today it has not been contacted by Thai authorities and is mostly relying on reports in the news media.
"There are also certain press reports with regard to arrest warrants having been issued for certain Turkish nationals," it read. "Up to now this Embassy has not received any official notification from the Thai authorities concerning the arrest warrants."
A spokesman for the Turkish ministry said a man arrested Saturday with a fake Turkish passport identifying him as Adem Karadag was not one of its citizens.
"On the other hand, it was reported in the press that the suspect arrested on 31 August at the Thai-Combodia [sic] border had a Chinese passport," read the unofficial translation posted to the ministry's web site. Naturally the Thai authorities should provide clear and correct information about this news report."
The spokesman's statement concluded with an exasperated tone.
"I can say that our Embassy in Bangkok is in contact with the Thai authorities. Our Ministry is also in touch with the Thai Embassy in Ankara. Our Ministry has requested information through Interpol. We haven't received a reply yet. That's all I have to say."
The names and nationalities of two men arrested remain "unconfirmed" by officials. The man arrested in a suspected bomb-making den on Saturday was carrying an obviously forged Turkish passport identifying him as Adam Karadag. The man flown to Bangkok from the Cambodian border Tuesday was alleged to have been carrying a Chinese passport identifying him as as 26-year-old Yusufu Mieraili from Xinjiang, China. Police were working to confirm their hunch he is the same man wanted for bombing the shrine.
Four of the eight arrest warrants issued since the attack have targeted men identified as Turkish nationals.
The first two warrants were for unidentified men seen on the night of the blast, one of whom is suspected of planting the bomb at the shrine and another thought to have ditched a second bomb in a waterway near the Chao Phraya River's Sathorn Pier.
On Tuesday three more warrants were issued for foreign men identified as Turkish nationals. Police said they were staying in an apartment building in the eastern outskirts of Bangkok where another Saturday raid discovered a stockpile of bomb-making materials. Two were identified by name: Ali Jolan and Ahmet Bozoglan.
Those followed two warrants issued Monday. One was for a Thai woman, Wanna Suansan, who left Thailand on July 1 for Turkey. Several rooms at a Min Buri district apartment building were rented in her name, where members of the same network of suspects were thought to have stayed and more bomb components were discovered. The second was for an unidentified man believed to have been staying in one of those rooms.
Finally, a court approved an eighth warrant yesterday for Emrah Davutoglu, the Turkish national married to Wanna.
In the face of mounting evidence suggesting links between the attacks, Turkish nationals and at least one Chinese Uighur, Thai officials have reportedly been ordered to avoid mentioning Turkey, international terrorism or the possible targeting of Chinese tourists.
Nonetheless Thailand's Defense Minister Gen. Prawit Wongsuwan, who is also tasked with national security matters as deputy prime minister, flew to Beijing yesterday.
The chairman of the military junta ruling Thailand said today Prawit wouldn't raise the issue of Uighurs and the shrine bombing during his trip – unless the Chinese bring it up first.
"If they don't talk, we won't talk," Prayuth said. "This issue has nothing to do with China. It's our country's problem. Some issues are international problems, but we will only talk about people who are related.
No one has taken credit for the attack and officials have quieted their own speculation after some assigned blame to a variety of possible perpetrators in the first days after the attack.
Government officials including police spokesman Lt. Gen. Prawuth Thawornsiri have said they believe it was driven by a personal grudge among criminal elements involved in human trafficking.
However support has grown among security experts and observers the attack might have been retaliation for Thailand's decision, under pressure from Beijing, to deport more than 100 Uighurs back to China.
Related stories:
Mounting Evidence Links Bombing to Turks, Uighurs
Tests to Confirm Whether Man is 'Bangkok Bomber'
Warrants Out for Thai Woman, Foreign Man
Police Search for More Suspects After Arrest
Floundering Bomb Investigation Deepens Doubts About Competency
No Longer Whole, a Family Buries its Dead and Waits for Answers
Bangkok Bomber May Have Fled Thailand: Police
Man Dropped Bag into Water Night Before Sathorn Pier Blast
Seen Often on Sathorn 10, Suspect Thought to Use Fake Turkish Passport
Leaked Police Report Tracks Lead Suspect Before, After Bombing
1M Baht Bounty for Bangkok Bomb Suspect
Bangkok Shrine Bombing: Those Who Died
Despite Lack of Evidence, Thai Media Points Blame at Uighurs
Tourists Narrowly Escape Second Bangkok Bombing in 24 Hours
Bangkok Shrine Bombing: Police Hunt Backpack Man