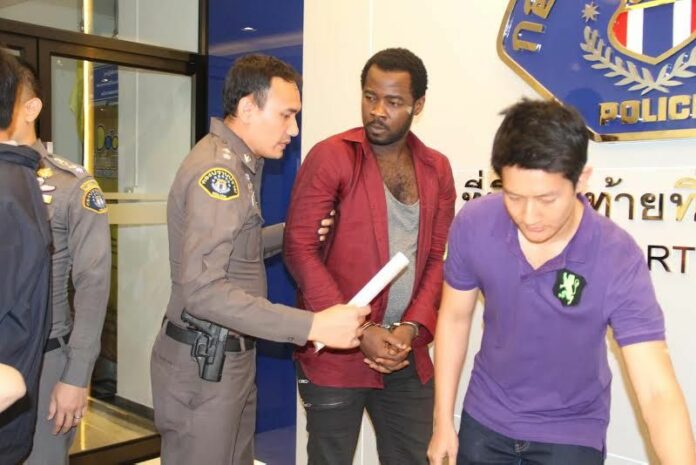 BANGKOK — A man accused of posing as both European men and women – without being either – to romance and scam upward of 400,000 baht from Thai victims over Line was arrested yesterday.
Mgbenka Oyalulu Ogochukwu, a 35-year-old Nigerian man, was taken into custody at his condominium Thursday in Lat Krabang. Police said they found evidence on his phone he maintained another identity as "Luis Mark" and photos of good-looking European men used to flirt with Thai women over the popular chat app.
After gaining a woman's trust, police said the accused would tell them the large sum of money he brought for them was confiscated at the airport. The woman then would be asked to transfer some money to give to customs officers, ranging from 10,000 – 400,000 baht.
Ogochukwu also reportedly disguised himself as a British woman named "Gianna Addison" to scam Thai men using the same ruse.
Police Maj. Gen. Chan Vimonsri said the accused confessed to entering the country in 2012 to work at a Pratunam garment business. but later turned to earn a living through the dating scam. He was aided, police said, by a Thai woman accomplice who posed as a customs officer.
Ogochukwu was charged with being in the kingdom illegally since 2012. Police did not charge him with fraud, saying complaints must be made by the victims.
Related stories: