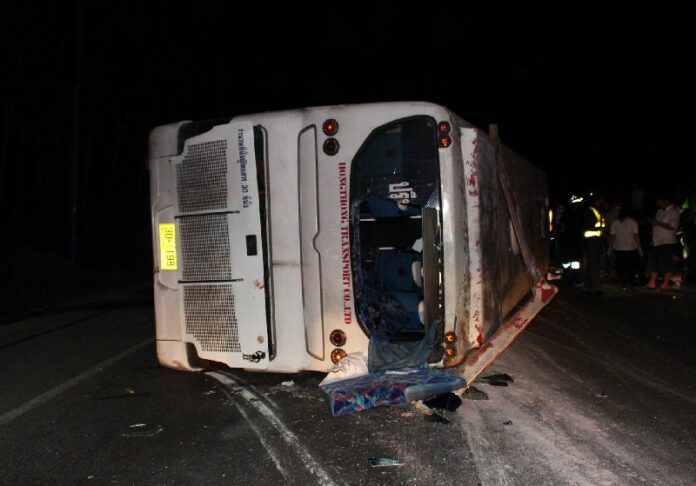 PHANG NGA — Nearly 20 Chinese tourists were injured after an inexperienced bus driver lost control of the vehicle in Phang Nga province today, police said.
A total of 18 people, including Chinese tourists and their Thai tour guide, were injured in the crash, which occurred on a bend in the road in Takua Thung district this morning, according to Takua Thung Police Station chief Sirisak Wasasiri.
According to Sirisak, bus driver Suriyon Tancharoenrat lost control of the vehicle as he approached the bend because he lacked experienced at driving buses.
"He's not the regular driver for that bus," Police Col. Sirisak told Khaosod English.
The 34-year-old driver has not yet been charged with any crime, as police are still evaluating the severity of the passengers' injuries, Sirisak said. He added that Suriyon was also injured in the crash and is seeking treatment at hospital.
Asked whether Suriyon was drunk-driving, officer Sirisak said he was not.
Hatairat Kongchana, director of Department of Land Transport's office in Phang Nga, said officials are deliberating whether to punish the company that operated the bus, Hong Tong Transport Co. Ltd.
"If we find that they [the company] broke any laws, there will be punishment," Hatairat said. "We are investigating the accident site and the vehicle. We are collecting information."
She continued, "We are investigating the incident cautiously because [our punishment] will affect the bus operators and the driver. We have to be fair to all sides."
Interprovincial buses are known for their frequent rate of accidents.
Just last month, a bus crash in Chiang Mai province left 13 Malaysian tourists and their Thai tour guide dead and 12 others injured.
To reach us about this article or another matter, please contact us by e-mail at: [email protected].
Follow Khaosod English on
and
Twitter
for news, politics and more from Thailand.