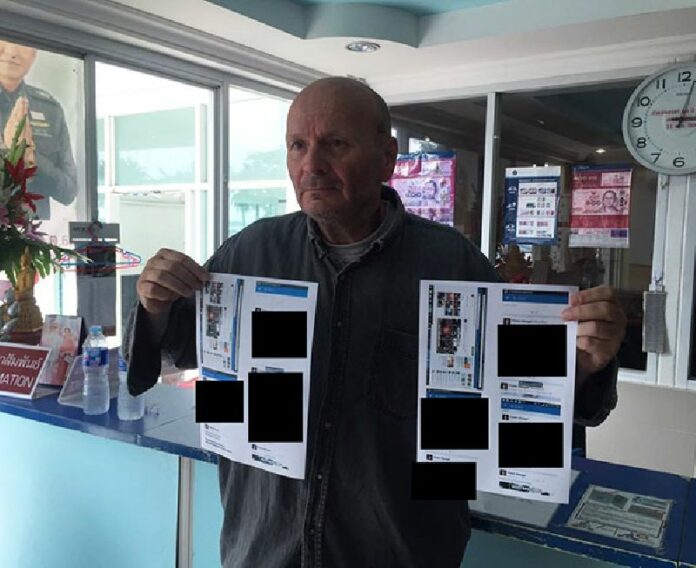 CHONBURI — A German expat in Chonburi province went to police yesterday to complain that not only was someone impersonating him on Facebook but doing it to post insulting messages about the monarchy.
Manfred Peter Gallus, 58, told police he had nothing to do with a Facebook profile used primarily to publish crude remarks about the royal family, libelous statements punishable by up to 15 years in prison per offense under the law.
Gallus said he recently found the Facebook profile, which uses his image for the profile photo and makes extensive use of images he said were taken from his real Facebook account, and was shocked to see the defamatory messages. according to Lt. Col. Winai Horian, an officer at the Nong Prue Police Station.
Many of the messages are written in poor Thai and seem the likely results of automated translation. Khaosod English is withholding further information about the remarks to comply with Thai law, which bans dissemination of remarks deemed offensive toward the monarchy. Gallus' personal photographs indicate he is either a member or associates with members of the Hells Angels motorcycle gang.
Lt. Col. Winai said Gallus insisted he never insulted the monarchy, as he himself also loves and respects His Majesty the King and other members of the Royal Family. According to Winai, Gallus offered a 30,000-baht bounty for information leading to the Facebook impersonator.
If his claim is true, Gallus' case would be an example of what the sweeping law's critics, such as Thammasat University law professors Worachet Pakeerat and Piyabutr Saengkanokkul, have described as its potential for abuse to pursue political or personal vendettas. Anyone can accuse anyone of the crime, and police are obligated to investigate the complaint.
Reached for comment today, Col. Pramote Ngampradit, commander of Nong Prue Police Station, declined to give further details about the ongoing investigation.
"We cannot give information because it's a sensitive matter," Col. Pramote said.
Although critical discussion of the monarchy has long been taboo – and illegal – in Thailand, the lese majeste law has been more harshly enforced since the military government came to power in May 2014.
Most lese majeste trials are now held in military court, where reporters are often barred from the proceedings and defendants have no right to appeal.
On Jan. 20, the court sentenced a man named Piya Chunkittiphan to six years in jail after finding him guilty of insulting the monarchy on his Facebook profile. Piya insisted on his innocence, arguing that he was impersonated on Facebook. The court rejected his argument.
Related news: Facebooker Sentenced to 6 Years for Defaming Monarchy
To reach us about this article or another matter, please contact us by e-mail at: [email protected].
Follow Khaosod English on and 
Twitter
 for news, politics and more from Thailand.