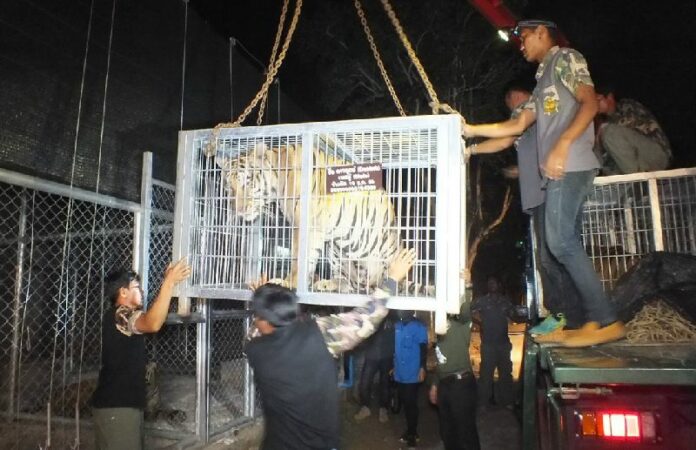 KANCHANABURI — A second group of five tigers were removed from a commercial wildlife temple yesterday.
It took about half an hour for veterinarians to sedate each tiger, conduct a physical examination and load them for transport to a wildlife research station in Ratchaburi province, temple lawyer Saiyood Pengboonchoo said over the phone Wednesday morning.
That makes for 10 tigers removed from the controversial temple, which takes money from tourists to pose for photographs with the wild animals and has been accused of selling tigers. Saiyood said, as negotiated with the wildlife officials, five tigers will be removed from the temple each month until all 147 tigers are gone.
The temple has also said it is seeking permission to operate a zoo and hopes to buy the tigers back from the government to keep there.
The tigers moved Tuesday were in good health condition when they arrived at their new home, according to Banpot Maleehuan, chief of the Khao Prathap Chang Wildlife Breeding Research Station. However, they will need to be closely monitored for the first seven to 10 days, Banpot said.
The next batch of tigers to be relocated from the temple will be partly moved to the Khao Son Wildlife Breeding Research Station, also in Ratchaburi province, Banpot said.
The first group of five tigers were removed overnight by wildlife officials Jan. 28.
Related stories:
5 Big Cats Removed Overnight from 'Tiger Temple'
Temple Refuses to Release Tigers, Again
'Tiger Temple' to Give Up Big Cats, Activist Says
Thailand's Tiger Temple Ordered to Give up Tigers
Asian Black Bears Seized From Thailand's Tiger Temple