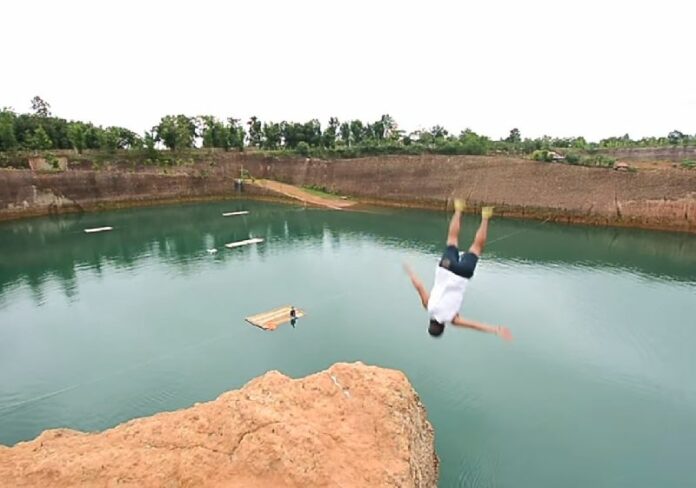 CHIANG MAI — Two foreign tourists were hurt in separate incidents at Chiang Mai adventure tourism sites in the past week, four months after authorities pledged to improve safety standards in response to a string of incidents.
A European tourist reportedly fractured his spine after cliff-jumping into a former quarry this past weekend, while a Chinese tourist was slightly injured on the same zipline ride a Chinese tourist snapped her neck and died in October 2015.
Although several news agencies report that the provincial authorities ordered both venues to close down in the light of the injuries, representatives at the two attractions said they had not received any such order.
"The news about us being closed down is not true," Amphika Masanong, assistant manager of zipline operator Flying Squirrels, said Wednesday. "Today we are still open as usual. The news damaged us a lot."
No Safety Net for Unregulated Ziplines
Amphika said she couldn't remember which date the accident at Flying Squirrels took place. She would not explain the circumstances that led to the tourist's injury other than saying it was a "human error" on the part of her staff, which allowed the Chinese tourist to land at the end of the zipline at high speed, bruising him.
She said the staff responsible for the accident has been fired for not following safety procedures.
The owner of Grand Canyon Hangdong said the venue remains open to the public after a European tourist broke his spine after jumping into its "Grand Canyon," actually a flooded, disused quarry.
Owner Napatsutthi Chulathararak said she could not recall which day the unidentified man was injured, saying "it was either Saturday or Sunday, I'm not sure."
The tourist is being treated at a hospital, she said.
The incidents at Grand Canyon Hangdong and Flying Squirrels came four months after Chiang Mai officials including Gov. Pawin Chamniprasart promised to regulate and improve safety at adventure tourism sites in the province, including its numerous zipline attractions.
Another Chinese Tourist Dies on Chiang Mai Zipline
That pledge followed the death of a Chinese tourist who reportedly broke her neck Oct. 11, 2015, while ziplining at Flying Squirrels on.  At the time, operators of zipline stations contacted by Khaosod English said they had no licenses whatsoever for their businesses, and officials admitted there was little or no oversight of their safety standards.
Ordered Shut?
Following the accidents, Manager Online quoted Gov. Pavin saying Tuesday that both Grand Canyon Hangdong and Flying Squirrels were ordered shut down immediately for 15 days pending an investigation into their safety standards.
Both Napatsuthi and Amphika said they only saw the order reported in the media, as they have not received such notice from the authorities so far.
Customers at Flying Squirrels zipline adventure in Chiang Mai province on Oct. 13, 2015.
Reached for comment Wednesday, Gov. Pavin said was unavailable for an interview because he had to attend a royal visit by Princess Soamsawali in Chiang Mai.
Amphika, the assistant manager at Flying Squirrels, said some improvements have been made in the ziplining industry since the fatal incident. According to Amphika, there is now a standard set of safety measures agreed to by all operators and enforced by the Department of Public Works. The last safety inspection took place in late December, she said.
Her company also acquired accident insurance, Amphika said.
'Accidents Can Happen Anywhere'
But Napatsutthi, owner of Grand Canyon Hangdong, said her business is still in the legal vacuum with no license and no insurance. The European tourist had his own travel insurance that is covering his medical expenses, she said.
Chiang Mai officials have yet to conduct a safety inspection of the site, she said, even after the tourist was injured this past weekend, she said.
Yet, Napatsutthi said, the Tourism Authority of Thailand visited the former quarry and promoted it as a major tourism attraction in Chiang Mai, despite its lack of an operating license.
She said she has tried to apply for a license, but her request has been turned down by the authorities.
"We have been open since last April," Napatsutthi said. "We asked them what do we do to get a license, but they said they are not sure because we do not completely qualify as an adventure tourism site, because we have a restaurant and coffee shop, and we allow people to swim in the pond, and we provided lifeguards and flotation devices."
Napatsutthi said the European's injury was the first since her business opened almost a  year ago, and played down the severity of the incident.
"This is the first time we have had an injury, and it's not serious enough to warrant a shutdown," she said. "Accidents can happen anywhere, especially minor accidents. We admit there was an accident. We can't control everything, but we try our best to take care of their safety."
Online reviews of Grand Canyon Hangdong include several complaints of injuries, however.
A Wongnai.com user named Pradae wrote in September 2015 that his uncle dislocated his spine after jumping into the pond and landing on his back. "He was admitted to hospital for five days, and he had to recover at his home for about three more months," Pradae wrote.
The only known death of a tourist at the site took place in 2014, when the former quarry was an undeveloped site. In that incident, a South Korean tourist drowned after jumping into the pond.