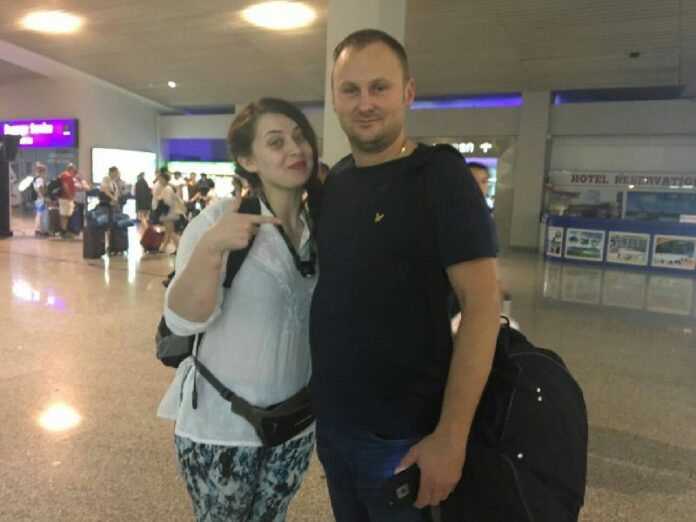 By Teeranai Charuvastra
Staff Reporter
KRABI — A British tourist who was reported missing by her mother was escorted home last night by an uncle who arrived to make sure she returned safely.
Grace Taylor, 21, whose frantic family had earlier reported missing, took a flight back to the United Kingdom from Krabi International Airport on Tuesday night after her uncle arrived to retrieve her, according to provincial tourism official Nittaya Piewdee.
"The tourist's uncle took her back home," said Nittaya, who works for Krabi's tourist assistance center. "He arrived in Krabi around 7pm, and he brought his niece home on the same night."
---
'Missing' British Backpacker Found at Krabi Airport
---
Taylor became a center of media attention after her mother, Sam Taylor, reported her missing Monday and pleaded for help from the backpacker community in Thailand to help locate her daughter.
Grace Taylor was found Tuesday at a coffee shop inside Krabi International Airport, but appeared to be in distress. Nittaya said police placed the tourist in her care because she refused to talk to any male security officer.
According to Nittaya, Taylor's paranoia lessened during the course of the day, and she was in good condition when she met her uncle Tuesday night. Nittaya said she did not ask Grace Taylor if she suffered from any mental illness.
"While I was with her, I didn't ask her about her issues. We only wanted to convince her not to be afraid of us and not to worry," Nittaya said.
Correction: An earlier version of this story misidentified Taylor's last name as Kelley.
Teeranai Charuvastra can be reached at [email protected] and @Teeranai_C.