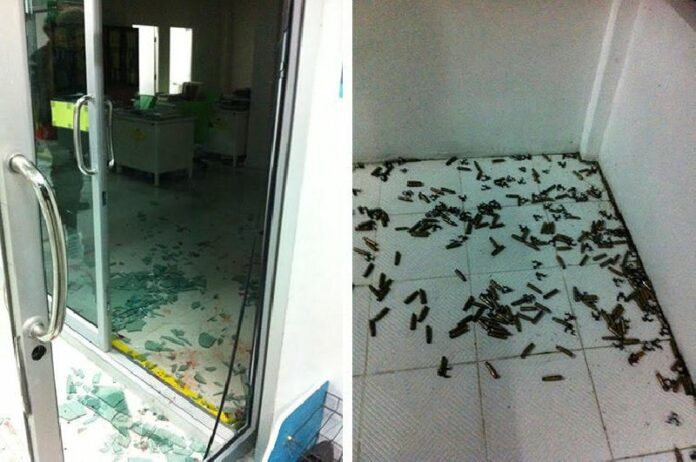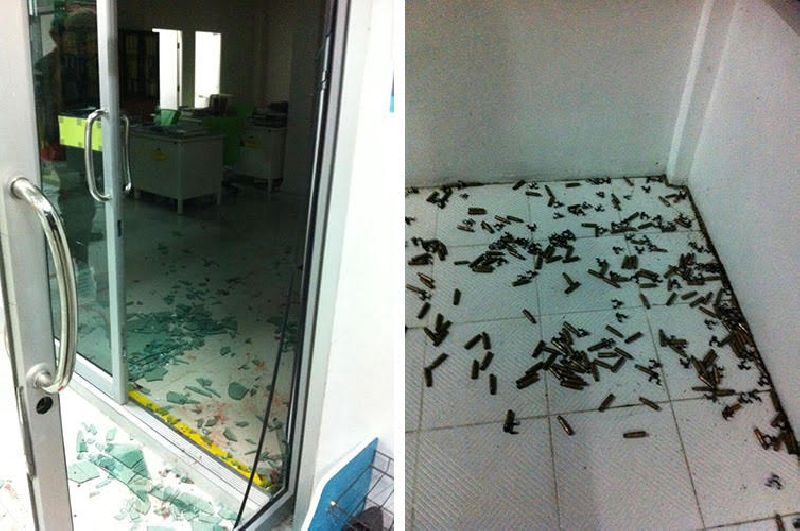 NARATHIWAT — At least a dozen armed gunmen seized control yesterday of a hospital in Narathiwat from which they then opened fire on a nearby ranger outpost in an attack the army blames on the local separatist movement.
The unusual attack, which was jointly condemned by the army and the National Human Rights Commission as inhumane, appeared to mark Sunday's 53rd anniversary of one of the separatist groups active in the region, the National Revolutionary Front, or BRN.
According to a report released to the media by the army, more than 10 masked gunmen seized control of Cho Airong Hospital without harming anyone inside at about 4:30pm on Sunday and fired assault rifles from the second floor onto a ranger operations base next to the hospital.
---
Eight Separatist Banners Taunt 'Thai Colonizers' in Deep South
---
The militants fired on the base for an hour before retreating into the woods, the military report said, and seven army rangers were injured. The report also said security forces did not return fire out of concern for hospital staff.
Around the same time, unidentified assailants opened fire on a group of security officers at the Cho Airong Train Station and detonated a bomb on a bridge near Yaning village, although no one was injured in those two incidents.
The army believes the attacks were perpetrated by the BRN, one of the armed groups seeking to secede the southern provinces of Narathiwat, Yala and Pattani to form an independent nation.
The BRN was founded March 13, 1963.
"The movement intends to cause chaos, disturbance and damages to lives and property of innocent people, without considering those who have been affected," Col. Yutthanam Petchmuang, a spokesman for the counterinsurgency Internal Security Operation Command, said Monday. "This is an extreme and inhumane act."
In a statement released to the press today, the National Human Rights Commission similarly condemned the hospital attack as "inhumane, illegal and a violation of human rights."
The commission called upon all armed groups not to attack hospitals and medical staff, and praised the army for reportedly refusing to exchange gunfire with the militants at Cho Airong Hospital.
More than 6,500 people, mostly civilians, have been killed in the three southern border provinces since the separatist violence broke out in January 2004.
Related Stories:
Buddhist Groups Condemn Murder of Monk in Deep South
Army Denounces Deep South Torture Report as Product of 'Imagination'
Muslim Cleric Recounts Traumatic Police Raid in Deep South
Teeranai Charuvastra can be reached at [email protected] and @Teeranai_C.