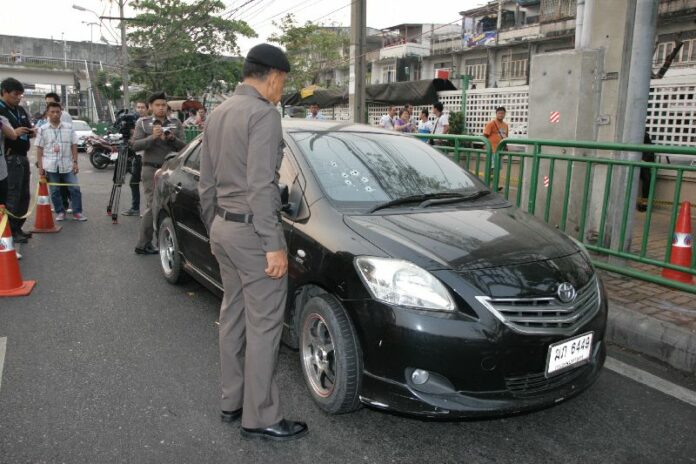 BANGKOK — Police suspect the man who pulled up and shot the driver of a Toyota six times yesterday was the ex-husband of the victim's wife, who was also riding in the car but escaped unharmed.
Police still are searching for the two attackers who pulled alongside Suvit Anannateechai's Toyota and shot him through the windshield seriously injuring the driver Wednesday morning on Rama IV Road near the Khlong Toei Market.
Suvit Anannateechai, 47, is still in hospital where he is recovering from five bullet wounds to the torso and one to the hand. His 41-year-old wife Suwimon Kwan-on is safe and sound.
Lt. Col. Yanyong Suwansa-ard of Tha Ruea Police Station said Suwimon gave useful details to police, which led them to identify two suspects, one of which is her ex-husband, Puritchakarn Wongdee.
Suwimon said that the gunman looked like her former spouse, who is a merchant at sprawling Khlong Toei Market. After they divorced, the two still quarreled and Puritchakarn often threatened her, Suwimon told police.
The man operating the motorbike wore a helmet but is believed to be Panupong Chulathip, Yanyong said, while his gun-toting passenger did not.
After questioning witnesses and inspecting security cameras in the area, Yanyong said, Puritchakarn is the lead suspect.
Police searched the homes of both suspects Wednesday afternoon in the Khlong Toei district but came up empty-handed.
The Bangkok South Criminal Court approved arrest warrants for Puritchakarn, 46, and 31-year-old Panupong for attempted murder and gun possession.
Related stories:
Motorist Survives Rama IV Road Assassins
Chayanit Itthipongmaetee can be reached at[email protected] and @chayaniti92.