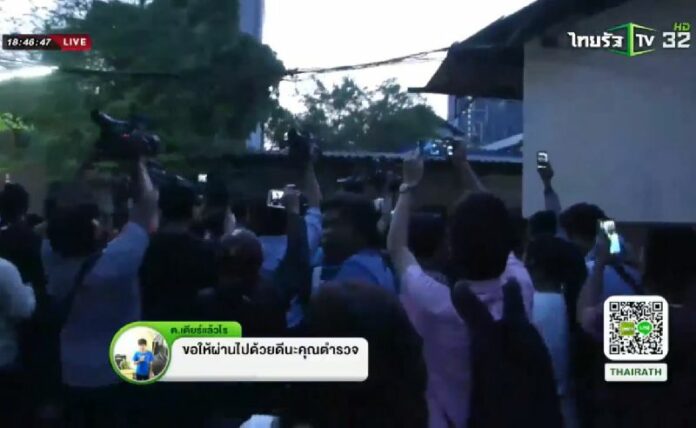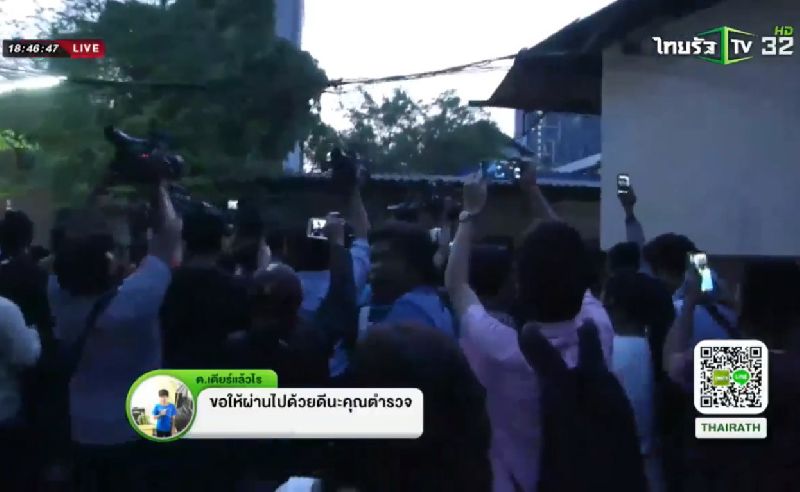 BANGKOK — It was the kind of media event that would have once been unthinkable, but in a time of everything-everywhere expectations, the rapt coverage of an unfolding suicide Thursday seemed to raise ratings more than editorial alarms.
Today, prominent media watchdog agencies admit they moved too late to take action against news agencies which broadcast live footage of a cornered murder suspect committing suicide in Bangkok.
---
While Nation Watches Live, 5-Hour Standoff Ends as Murder Suspect Shoots Himself
---
The live broadcasts, which went on for nearly six hours and ended only after university lecturer Wanchai Danaitamonut fatally shot himself, again raised uproar about media ethics in Thailand, where the bar for standards rests low, and concerns about privacy are readily discarded to satisfy public appetite for novelty and horror.
The confrontation between Wanchai, who was wanted for the murders of his fellow professors on Wednesday, began at around 2pm and was subsequently broadcast live on television by news channels as well as online by traditionally print organizations such as Thairath, the largest newspaper in Thailand.  
Thairath streamed the incident over Facebook Live, a medium being rapidly adopted by non-broadcast news outlets. Print media has been in decline in Thailand as much as anywhere, and internet streaming has provided a welcome audience boost to newspapers struggling to transition to an online future.
The first condemnation came just before 6pm from the Thai Journalist Association, which urged members of the media to "exercise caution" in their coverage out of consideration for the "feelings of the public" in a statement. 
Just after 6pm, telecommunications regulators ordered state news agencies under their jurisdiction to pull the plug on live coverage. 
"This case is not only about ethics, but it's considered a violation of laws related to television operations," Supinya Klangnarong of the National Telecommunication and Broadcasting Commission wrote on Twitter.
About 40 minutes later, at 6:44pm, Wanchai ended the standoff by shooting himself in the head. By that time, many media agencies had stopped their live broadcasts of the incident. The actual suicide took place off screen of those who continued to cover it, such as Nation TV, Thairath and Khaosod, though a loud gunshot was still heard in the background. 
Thai Journalist Association director Wanchai Wongmeechai said his organization took too long to issue a warning because they were in a meeting while the drama unfolded outside. Ironically, the meeting was about how to improve media ethics, Wanchai said. 
"After the meeting ended, and I came out, someone phoned me about it, and I turned on radio, so I found out what happened, and I made phone calls to the media ethics committee," Wanchai said by telephone. "At that point, I thought we needed to hurry, because there was already criticism on social media. If we didn't act, the society would look at the media even more negatively."
He said the statement was not sent directly to any particular media agency, but he hoped it would "send a signal" to the editors in charge. According to Wanchai, many agencies toned down their coverage after the warning was issued.
However, he said the main responsibility of policing the media lies with the National Broadcasting and Telecommunications Commission, not his organization. 
"If the NBTC had acted more quickly, it would have been better," Wanchai said. 
Supinya, the media commissioner, said on Twitter the NBTC took action when it was too late. The delay was due to to the fact that the commission normally only takes legal action based on what the media already published, and Thursday's event was an extraordinary, unprecedented exception.
"First time for NBTC to intervene live broadcast on TV (tho still late) which the Panel had to hold meeting by phone before sending letters," she wrote.
Wanchai said the journalist association will strive to "find a lesson" from yesterday's incident and campaign more aggressively on issues of ethics. 
"We will campaign for media to be responsible, not to violate ethics, and improve credibility for the media," Wanchai said. "If we still have problem in ethics, it would be a problem when we fight for media freedom." 
Related stories:
Celebrity Dies, Paparazzi Frenzies, Public Rages Against Media Machine
Thai Press Groups Respond to Junta's Execution Threats with Mild Rebukes
Mainstream Media Trades in Worst LGBT Stereotypes, Review Finds