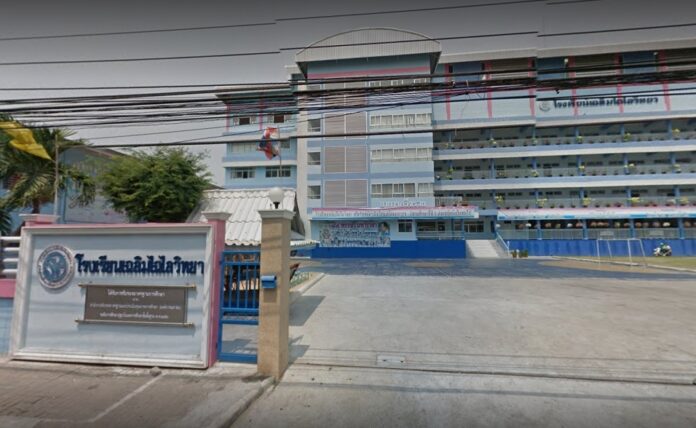 SAMUT PRAKAN — A 14-year-old student told police Thursday he was handcuffed and kicked in the ribs by a teacher at his school in Samut Prakan province.
In the latest case of alleged classroom abuse, the boy's family said a teacher at the Chalermchailai Witthaya School assaulted the student for damaging his classmates' mobile phones, even though he had already financially compensated them.
Teacher Faces Slap on Wrist for Disfiguring Student
"Next week we will summon both the teacher and the boy's family for talks," said Col. Preecha Iam-nui, Samut Prakan City police chief. "We have to talk to both sides to find out whether the incident really happened as claimed."
Col. Preecha identified the teacher as Thaichaya Samuna, a physical education teacher at the school. Thaichaya was on leave and had not talked to police, Preecha added.
The boy's grandmother, Wachareena Shinsri, came forward Thursday and told reporters at the police station that Thaichaya confronted the student in the classroom on Sept. 22 and berated him for throwing the mobiles of two fellow classmates out of the windows several days earlier.
The student, who was not named, admitted he had fought with two female students and had already paid 5,500 baht in damages to them, Wachareena said. But the teacher nonetheless punished the boy by putting him in handcuffs and then kicking him in the ribs several times, according to Wachareena.
Someone who answered the phone at Chalermchailai Witthaya School said the school's director was not ready to comment on the matter.
No charge has been filed so far, Col. Preecha said.
The alleged incident comes on the heels of a string of classroom abuse reports. A teacher in Nakhon Ratchasima has been charged with physical assault after he threw a coffee mug that struck a schoolgirl in the face. Another teacher in Chonburi province is also under investigation for beating a student with a baton.