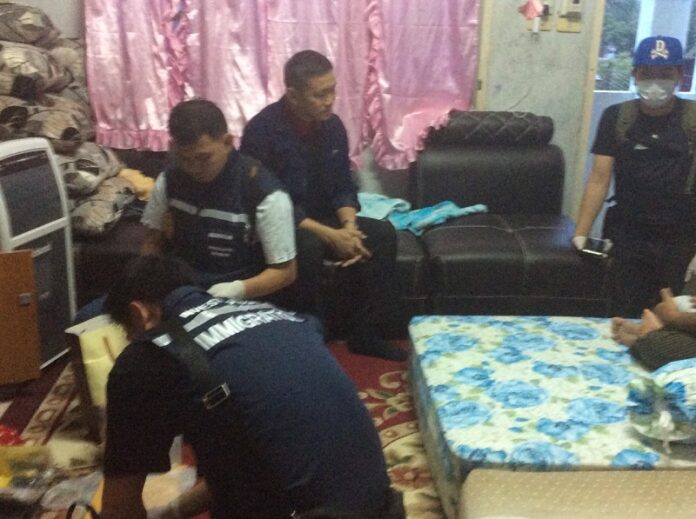 TAK — Police on Friday dismissed reports they were hunting for a suspect related to last year's bombing of the Erawan shrine in a northwestern border province.
Authorities on Thursday were searching for a man they said was linked to human trafficking in Tak province, a search which left them empty-handed, except for three illegal immigrants.
Police, immigration officers and military raided the building of the Hayat Trading Co. in Tak's Mae Sot district, which sits along the border with Myanmar, in search of a man identified only as Ali.
Police said he was a person of interest in connection to trafficking and arranging fake passports for Uighur migrants. An officer on Friday dismissed information widely reported in Thai-language media that one of the Burmese migrants arrested was connected to the shrine bombing that killed 20 people in August 2015.
Thailand has been a transit point for Uighur migrants escaping western China, where they complain of persecution by the state and Han Chinese. Beijing routinely describes them as terrorists. It was the Thailand's decision to deport more than 100 Uighurs in July 2015 under pressure from Beijing.
Many security experts believe the Erawan bombing was an act of retaliation.
Two Uighur men are currently on trial in a military court for the attack, but the investigation was dropped with more than a dozen other suspects unaccounted for.
Col. Jamrang Soodjai of Mae Sot police said the man was sought for an unspecified crime involving national security and might be captured without judicial review.
"There is not yet a warrant for him," Jamrang said. "But he is involved in a crime threatening national security, so if we are able to find him, he might be taken into custody using the junta's special power."
Since the 2014 coup, the junta has used the absolute power it granted itself under its interim charter to take any measures unsupported by conventional law.
Jamrang said Thursday's raid only led to the arrest of three Burmese migrants in the country illegally.
"We charged them for illegally entering the country," he said.
Although media outlets such as ThaiPBS and Manager reported a Burmese suspect was brought to Bangkok for questioning in connection to the deadly shrine bombing, Maj. Soraj Witchayawisut of immigration police said that was untrue.