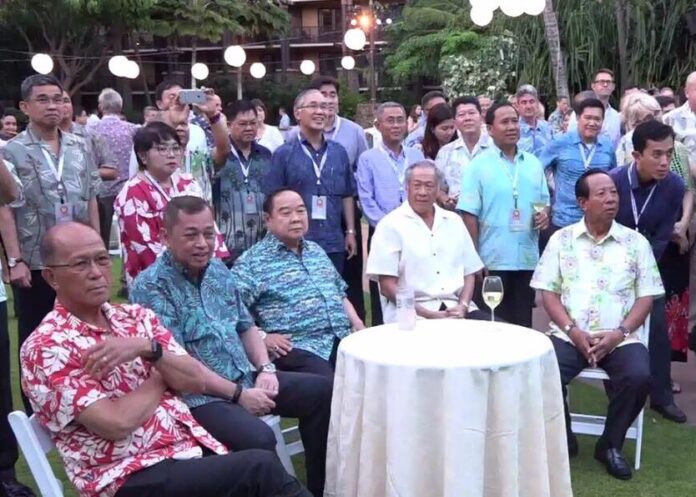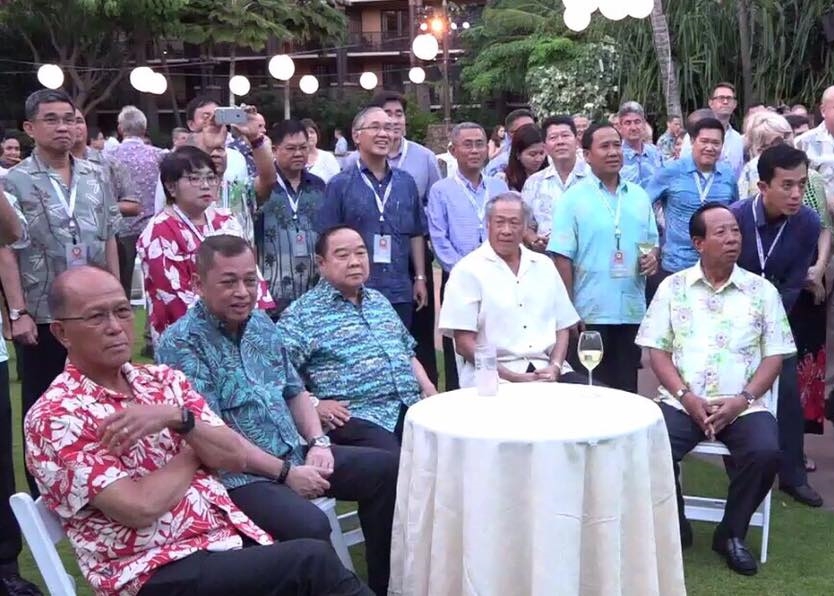 BANGKOK — Police on Friday were deliberating a request from Thai Airways to prosecute those on social media who spread what was purported to be a leaked passenger list of the government's now-controversial trip to Hawaii last week.
Without saying whether the list was real, airline lawyer Pramuk Wilaiwong asked police Thursday to file charges against Facebook pages that shared the document under the Computer Crime Act, a draconian law that bans any online material deemed damaging to the reputation of an individual or organization.
Govt Defends 21M Baht Flight to Hawaii
"We are still deliberating whether it qualifies under the Computer Crime Act," Col. Olan Sukkasem of the Technology Crime Suppression Division said Friday.
Junta deputy chairman Prawit Wongsuwan and his entourage visited Honolulu Sept. 29 through Oct. 1 for an event described as "ASEAN-US Defense Informal Meeting." It later emerged that their Thai Airways flight cost taxpayers 20.9 million baht, of which 600,000 baht was spent on in-flight dining alone.
The government has also refused to disclose who was traveling with Gen. Prawit. However, an anti-junta Facebook page called "Stop Hypocrisy in Thailand" on Sunday published what it said was the passenger list, which included two businessmen unrelated to defense affairs and a TV reporter rumored to be romantically involved with Prawit.
The reporter has insisted she was in Thailand at the time.
Khaosod English filed a request Wednesday under the freedom of information law requesting the Defense Ministry disclose the names of Prawit's entourage. As of Friday, officials said they're still deliberating the request.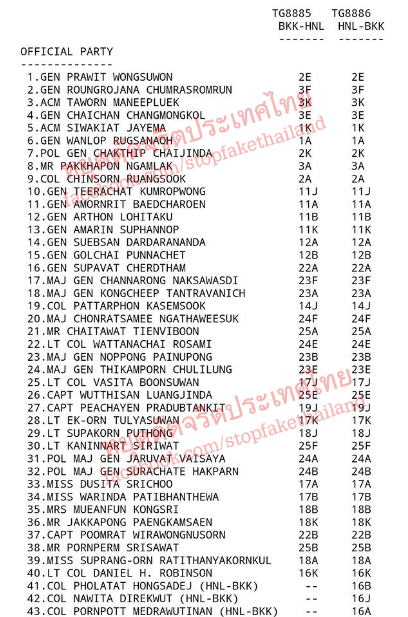 Pramuk, who represents state-owned Thai Airways, did not answer reporters' questions when he visited the tech crime unit Thursday to seek prosecution of those behind pages which shared the list.
Col. Olan, the officer in charge of the investigation, would not say whether Pramuk confirmed the list was authentic.
"I cannot disclose that detail," the police colonel said.
A defense spokesman suggested in a Wednesday interview that making the passenger list public could affect national security.
"Steps must be taken in accordance with protocols," said Maj. Gen. Kongcheep Tantravanich, who was on the Hawaii flight. "Is [disclosing the list] appropriate or not? If it affects national security or affects any agency, then we will not disclose it."
He did not explain how.