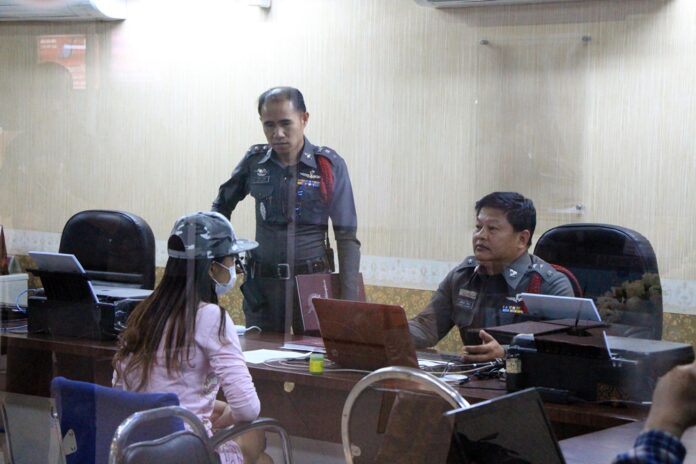 PATTAYA — Police in the resort town of Pattaya on Monday confirmed a group of men who attempted to abduct a woman from a street during the weekend were members of the force.
The latest case in which policemen allegedly used a drug search as a pretense for rape and extortion, a 23-year-old bar worker's allegations that two police officers attempted to abduct her was backed up by the city police chief, who has vowed to investigate.
"For what happened, I, as the commander, would like to apologize to the public for the misunderstanding," Col. Apichai Klobpetch said.
The incident took place in South Pattaya on Sunday night. The woman, who spoke anonymously out of fear for her safety, said two men identified themselves as officers and told her to get on their motorcycle for a drug test as she was leaving home for work.
They took her to a van parked in a secluded area where another group of men were waiting and told her to get into the vehicle, according to the woman. She said she refused and ran away for help, which prompted the men to flee.
The men were not dressed in police uniform and did not show any police ID throughout the encounter, she said.
Col. Apichai told reporters Monday night he learned all of the suspects were either police officers or volunteers with the Pattaya police force. He said they had been summoned to the regional police headquarters for a formal inquiry.
Apichai could not be reached for comment Tuesday, but he said in a televised interview earlier today that the matter would be taken seriously.
He also advised the public to be vigilant of suspicious police officers and always ask to see their identification if they are stopped by officers.
Police often work without uniforms and employ "volunteers," civilians recruited to help with police work, in their operations. The force also insists on conducting random body searches and drug tests in the streets.
In June, six cops and volunteers were charged on suspicion of detaining a woman in Pattaya on a drug-related charge before raping and extorting her. That trial is ongoing, police said.
Something similar happened in Pattaya three months later when a cop and two volunteers were accused of raping and demanding ransom from a woman whom they detained to search for narcotics.