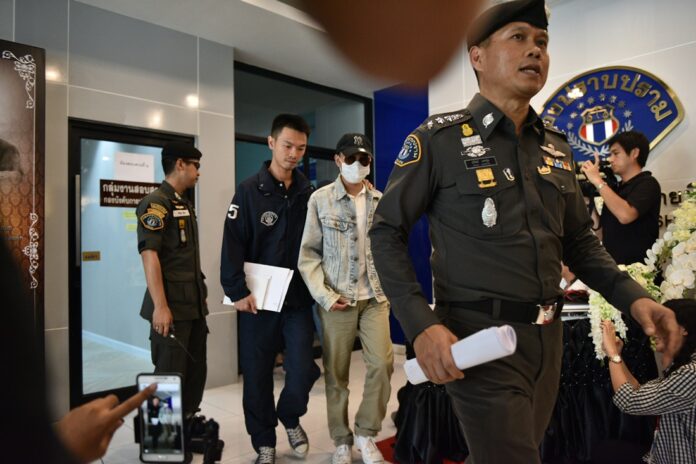 BANGKOK — A court on Tuesday ordered the son of a senior police officer to prison where he will await trial for allegedly murdering a student in Phetchaburi province last month.
Dechathon Moonmanee, 20, is accused of taking his accomplices to break into an apartment where he thought a romantic rival was staying on Feb. 25. During the course of the break-in, they are accused of killing a 24-year-old student they found there and wounding two others. A police commander in charge of the investigation said Dechathon and his friends have confessed to the crime but maintained it was "self-defense."
"They claim that the incident did happen but was a fight," deputy police commissioner Srivara Ransibrahmanakul told reporters Tuesday. "And that they didn't mean to kill him, and that they were fighting to defend themselves, because the deceased was bigger."
Read: Policeman's Son Accused of Murdering Romantic Rival's Friend
The deceased is Teerapong Thitathan, a student enrolled at a local university. He died after being stabbed in the head with a screwdriver. The killing was not made public by local police until Teerapong's family, fearing a cover-up because the suspect's father is a senior police officer, complained to the media.
After the news made headlines, 16 people, including Dechathon, turned themselves in and were subsequently charged with murder, attempted murder, assault, and breaking and entering.
All suspects were brought to a court in Bangkok yesterday for a custody hearing. While other defendants were granted bail, the court ordered Dechathon jailed, citing his attempts to "intimidate witnesses" and interfere with evidence. The suspect is now being held at Bangkok Remand Prison.
More arrest warrants could be issued if the suspects implicate anyone else, said Srivara, who's been assigned to oversee the case.
Officer Transferred
Investigators with Cha Am police were initially tasked with prosecuting Dechathon and his alleged accomplices, but following extensive media coverage and attention on social media, national police officials transferred the case to the Crime Suppression Division in Bangkok, an agency reserved for high-profile investigations.
The head of Cha Am police was also abruptly transferred to an inactive post, a common form of administrative discipline, though national police commissioner Chakthip Chaijinda said the order was unrelated to the Feb. 25 killing.
Dechathon and 15 others had been brought to the Crime Suppression Division on Tuesday morning for questioning. Speaking to reporters after interrogating the 16 suspects, Srivara said one admitted to driving the screwdriver into Teerapong's head, but the police general declined to identify which.
Another investigator also declined to name which suspect reportedly confessed to landing the fatal blow
"I don't want to go into details, but one of them already admitted to stabbing the victim," Col. Suwat Saengnoom said Wednesday. "I don't want to say much because it may affect the investigation."
The Feb. 25 killing attracted widespread interest because the police have a history of showing leniency to influential suspects or people who have connections to the force.
Last May, four sons of policemen were allowed to walk free from a crime scene where onlookers watched them stab a disabled baked goods vendor to death in Bangkok. After outrage on social media, police took them into custody and charged them with murder. They are now being held in prison to await a trial expected to open in July.