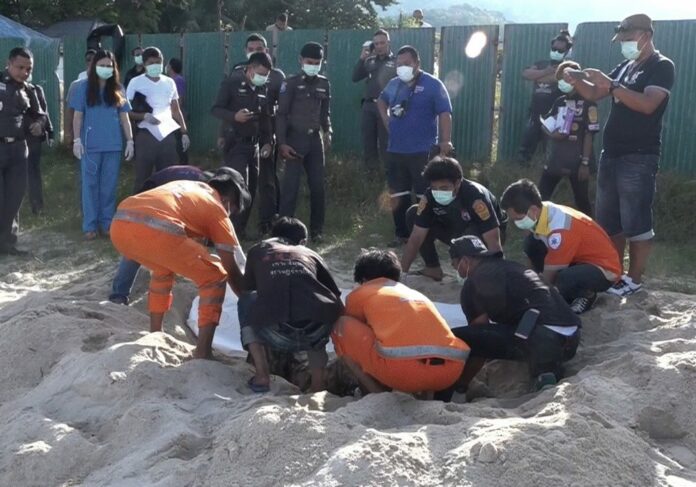 SAMUI — Koh Samui police said Tuesday they suspect the decomposed body unearthed by a tourist on a beach might belong to a homeless Rohingya woman.
The woman, known to locals only by the name of Lucy, was last seen Saturday night. Beach vendors told reporters she was often seen asking for change at the same beach where the body was discovered Monday evening. A local police chief said they might be the same person but more forensic work is needed.
"Many believe she looked similar to the body, but we don't know that yet," Chanaworasin Supanarak, head of Bophut police, said by phone.
Chanaworasin described the missing woman as a "mentally disabled" beggar who has been living on Samui for over 10 years.
A foul odor on Monday led tourists to the dead body buried at a beach in the Ban Lamai district. Col. Chanaworasin said the body had already decomposed by the time it was found. He also said there were wounds on her stomach but it's still unclear how she died.
Prompted by recent news about foreign backpackers' deaths on nearby Koh Tao, Chanaworasin added that he could confirm the body found yesterday was not a tourist or "a European."
"Please let police work for now and we will announce any update. I can assure you we're not covering anything up," the colonel said. "There's no reason why we will cover up. Some people fear we will do that because of the Koh Tao news. Reporters have been calling me all day."