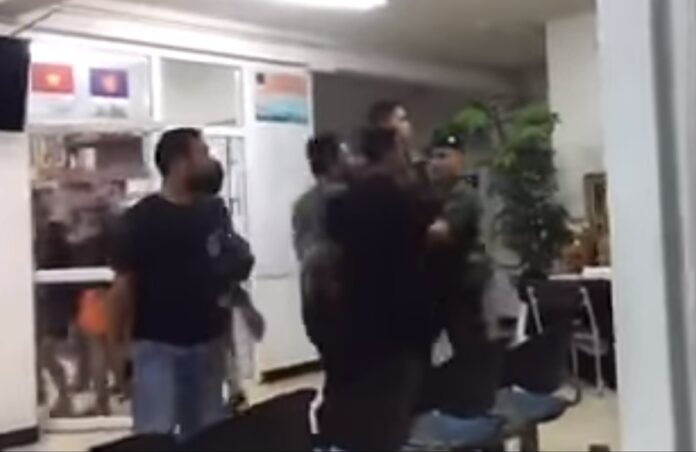 BANGKOK — A police call to an altercation in northeastern Bangkok yesterday ended in a brawl that saw more than 20 people storm a police station and beat four men accused of punching a policeman.
The four suspects – who remained behind bars Thursday – were charged with assaulting a law enforcement officer, while police are still seeking the identity of the mysterious vigilantes, said the deputy chief of Saimai Police Station.
"They have not been bailed out," Lt. Col. Naris Pratanaporn said of the four suspects. "They have refused to give any testimony. They spent a night in the cell room … We will take them to court tomorrow."
Police were first called at about 4:30pm to a gas station on Sukhaphiban 5 Road, where they encountered four intoxicated men arguing with staff for not being allowed to smoke on the premises.
The four were later identified as Sophon Kosin, 36; Pakorn Chuwong, 24; Sitthichai Solun, 24; and Rattanathep Chaipraneedech, 21. Police said one officer, Thawat Saisamer, tried to defuse the situation but Sophon punched him before he and the others took off in a vehicle.
The four were later stopped at a checkpoint and brought to a Sai Mai Police Station, where they shouted incoherently at the officers.
"Let me tell you, sai mai is way more delicious!" one of the four shouted, making a random reference to a type of cotton candy that gave Sai Mai district its name.
A group of men – some of whom were masked – soon arrived on motorcycles at the police station and watched the argument, prompting police to request reinforcement from a nearby military base.
At about 9pm the unidentified men rushed into the station, beat the four suspects and soon left the scene. Footage of the incident shows soldiers pushing back the attackers as police look on.
Naris said police are working to identify the assailants. He declined to speculate who they might have been.
"Who did right, who did wrong, we will judge based on facts and evidence," the lieutenant colonel said by phone.
Naris also suspected that the four men were high on drugs; they did not test positive for alcohol and have refused a narcotics test.
Related stories: