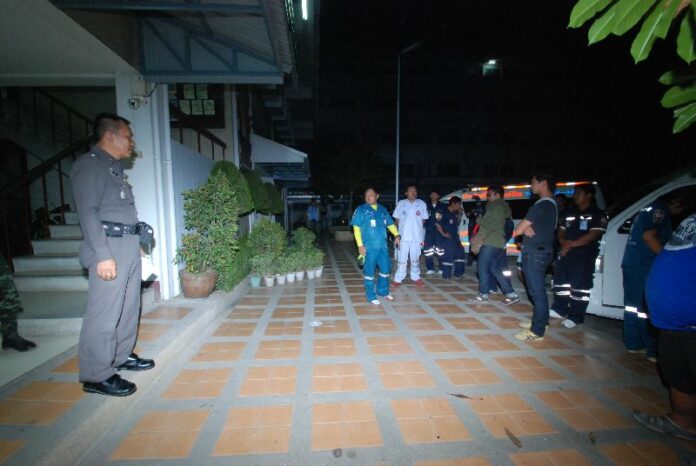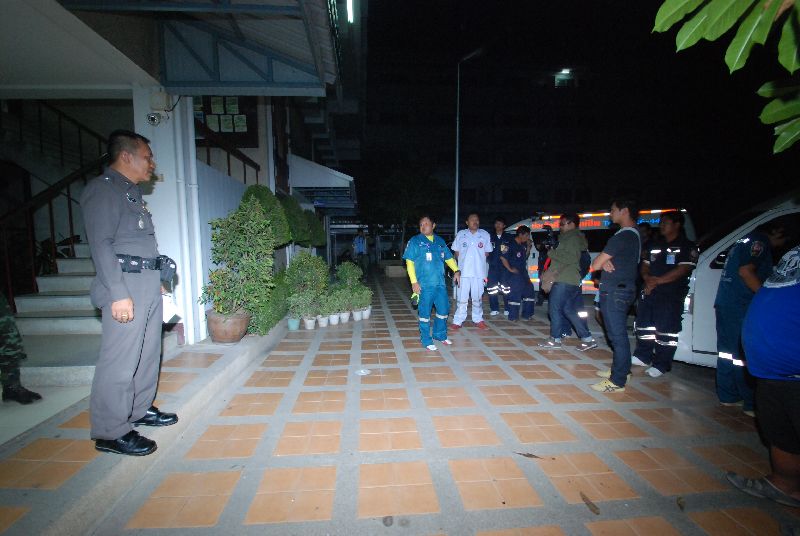 BANGKOK — Soldiers were forced to assist police in stopping a fight between rival groups of emergency responders in Bangkok early Sunday morning.
The incident followed a brawl that broke out several hours earlier between staff from Romsai and Por Tek Tung Foundations on Suwinthawong Road in Nong Chok district on 3 January.
According to Panawuth Chu0sook, a 23-year-old member of the Por Tek Tung Foundation, his team was racing to assist victims injured from a fight in the area when a pickup truck driven by staff from the Romsai Foundation crashed into their vehicle.
Panawuth said the Romsai rescue workers shouted "foul language" at the Por Tek Tung staff, leading to a fistfight between the two groups.
While a team of Por Tek Tung workers brought the victims from the original fight on 3 January to the hospital, Panawuth and over 50 others from Por Tek Tung went to Lam Pak Chee Police Station to file assault charges against members of the Romsai Foundation.
However, rescue workers from Romsai also showed up at the station to file their own assault charges against Panawuth and his team members.
Sarawuth Chit-amphai, a 21-year-old worker with Romsai, told reporters that it was Por Tek Tung staff who attacked his team with "axes" and other weapons.
Tension at the police station soon escalated, with members of the rival groups trading insults and threatening to start another round of fighting. Police were eventually forced to request support from a nearby military unit to contain the situation.
Five soldiers arrived to separate the two groups, and after four hours of negotiation the two sides agreed not to press charges against each other, and left the police station.
Vicharn Tansuriyawong, the secretary-general of the Romsai Foundation, said the brawl broke out because of a "misunderstanding" about which areas the two groups were supposed to cover.
"There will be a meeting, an inspection of emergency medical equipment, and clear explanation about the areas of their responsibilities," Vicharn said. "All Foundations will now only take orders in their operation from [the state-operated] Erawan Centre to prevent any further conflicta when they help wounded victims."
He added, "If there is another brawl or fight, a committee will be set up to identify the perpetrators and expel them from the Foundations."
Most victims of accidents and crimes in Thailand are handled by emergency responders who belong to local foundations and charities. Nicknamed the "Body Snatchers," these rescue workers often race to reach crime scenes before their rivals because some groups are paid based on the number of "cases" they send to hospitals.
The rivalry sometimes turns deadly. On 2 December last year, a Por Tek Tung worker was shot dead allegedly by a Romsai Foundation staff during a street fight in Bangkok.
Nipon Thongpradit, a member of Por Tek Tung Foundation, told reporters that hospitals pay other rescue workers "500-1,000" baht per each "case," but that Por Tek Tung Foundation does not collect "case fees" for its services.
"We have clear documents waiving any payment from Erawan Centre, because we don't want any reward for our works," Nipon said.