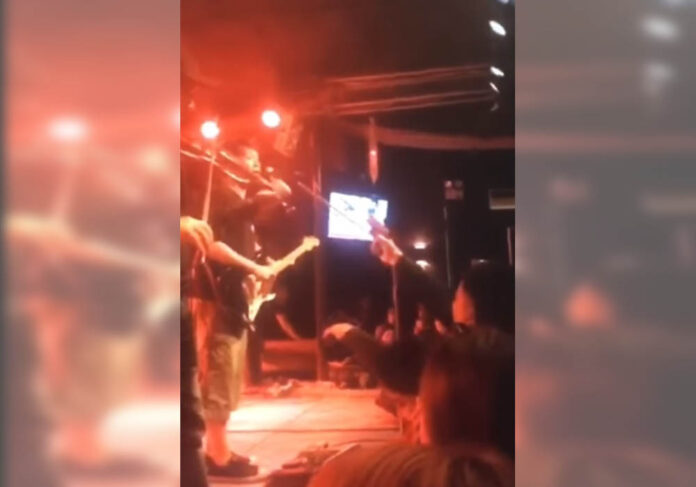 BANGKOK — An Air Force officer in the northeast is under criminal and disciplinary investigation for pulling a gun on a rock star, a military spokesman said Friday.
For allegedly aiming his handgun at singer Pongsit "Pu" Kamphee as the singer performed on stage in a nightclub, Master Sgt. Phoptrai Naksuwan will be tried by the military court for a firearms offense. Police said Phoptrai, who was drunk, was upset the 49-year-old rock legend wouldn't shake his hand.
Air force spokesman Pongsak Semachai said the 48-year-old soldier confessed and faces expulsion from the force.
"We cannot yet say what punishment will be issued to him. It varies from probation to expulsion," Maj. Gen. Pongsak said by phone. "We will see."
Phoptrai was arrested Wednesday night in Amnat Charoen province. A video filmed by another concertgoer shows Pongsit performing on stage at a nightclub when a man later identified as Phoptrai is seen trying to shake the singer's hand. The singer ignores him.
Pongsit is famous for phuea chiwit, a combination of rock and country that touches on life and social issues of the working class. He's been active in the music scene since the '80s.
Moments after his handshake was rebuffed, the man pulled a gun and aimed it at Pongsit, prompting the singer to tackle him.
Col. Natnawit Sitthapirom, chief of Amnat Charoen city police, said the soldier has been charged with carrying firearm into an entertainment venue and intimidating others. Natnawit said the gun was properly licensed, but he lacked a permit to carry it into an entertainment venue.
"He will be indicted by the military court," the police colonel said. "We are waiting for: one, results of the firearm examination; and two, the results of the fingerprint examination. We believe we will indict him within 30 days."
Phoptrai was heavily intoxicated at the time, he added.
Police and soldiers routinely carry firearms, even when off-duty. Gunfights involving armed law enforcement officers are recurring news items. In June 2016, a gunfight between police officers at a nightclub in Phuket left one dead. Three months later, off-duty cops shot two people dead at a bar on Koh Samui.
The air force spokesman said Phoptrai was not permitted to carry a firearm into the concert on Wednesday.
"He had no right to carry [a gun] without a duty that required him to do so," Maj. Gen. Pongsak said. "It was a personal crime."
A manager for Pongsit, the singer, also complained to the media that he wants to file a complaint of attempted murder, but police would not accept it.
Natnawit, the police station chief, defended the decision by saying the suspect had no intention to murder Pongsit. There was no round in the gun's chamber at the time he brandished it, and the video did not appear to show the suspect cocking the gun, according to Natnawit.
"Threatening someone and planning to murder someone are different," the police colonel said. "He was a fan himself. He just wanted to shake his hand!"