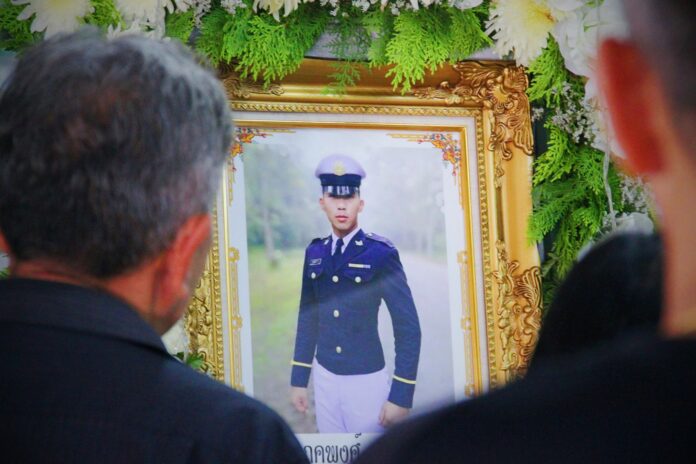 BANGKOK — The national rights agency said Monday it will convene an independent inquiry into the death of military cadet whose family suspects a cover-up of foul play.
A high-profile member of the National Human Rights Commissions said the body will summon all relevant parties to get to the bottom of what really happened to Pakapong Tanyakan, including commanders of the academy where he died last month.
"We have to summon every side, like the family, the academy and doctors who examined his body," Angkhana Neelaphaijit said in an interview. "We will also call for documents related to the autopsy."
Angkhana spoke after a group of student activists petitioned the commission to look into the 19-year-old cadet who died Oct. 17, one day after returning to the Armed Forces Preparatory School from a break.
His family, who made the grisly discovery that many of his vital organs were missing from his body after it was returned to them, renewed their calls Sunday for an investigation into his death.
But Pakapong's family raised new doubts when they said a complete, independent autopsy performed by a forensic science agency found blood clots in Pakapong's liver and spleen. His sister Supicha Tanyakan told reporters there was no mention of the blood clots when military representatives returned Pakapong's organs to the family on Thursday.
It is unclear whether military will cooperate with the rights commission. The armed forces have previously said it would launch an investigation into the chain of events that led to the cadet's death. They also rejected calls for a civilian inquiry into the matter.
Armed forces spokesman Nothapol Boonngam said he was in a meeting Monday and could not comment. Further calls to his phone were not answered.
Rights commissioner Angkana said the military can indefinitely postpone summons from the agency and not show up at all as there is no law compelling them to do so.
"The National Human Rights Commission cannot force them to come," Angkana said, adding that the most she could do to non-compliant summons is complain to the government.
Angkana, who's spent years campaigning against forced disappearances and military brutality, remains optimistic. Even the junta's National Council for Peace and Order answered the summons last week for the commission's inquiry into alleged mistreatment of activist Ekachai Hongkangwan, she said.
"Most of the time, when we invite someone, they show up," Angkana said.
Calls and messages seeking comments to Pakapong's family were not answered by press time.