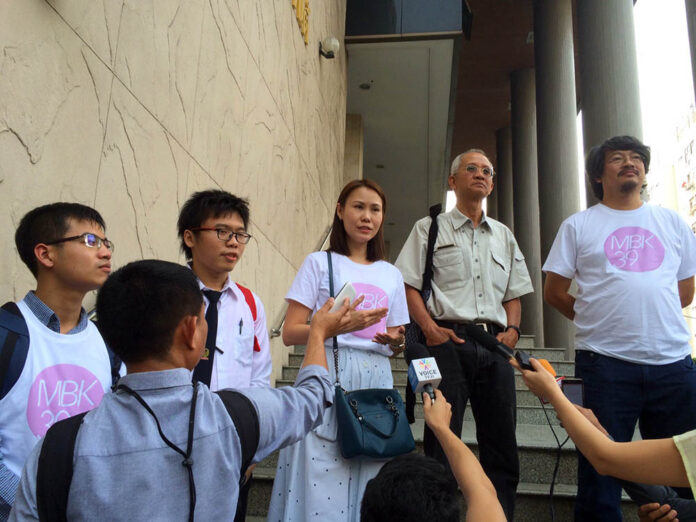 BANGKOK — Thirty protesters charged for holding a pro-democracy rally late last month were released on their own recognizance Wednesday as police seek to convince a court to jail the group's leaders until trial.
Reversing earlier statements that all faced immediate incarceration, deputy police chief Srivara Ransibrahmanakul said the authorities would not oppose the release of most members and only ask the court to jail the group's leaders after all but four of the accused were formally charged this morning.
Those only charged with violating the public assembly law – the protest was deemed too close to a royal property – were taken from the police station to a nearby circuit court and freed Wednesday afternoon. One member, Noppakow Kongsuwan, was already freed under the same conditions Tuesday. Noppakow works for Khaosod newspaper, a sister publication of Khaosod English.
Four of the nine leaders of what's being called the MBK39 for their rally held near the Bangkok's MBK Center, did not appear Wednesday at the Pathum Wan Police Station.
Srivara said he would not seek warrants to arrest Rangsiman Rome, Sirawit Seritiwat, Ekachai Hongkangwan and Arnon Nampa unless they failed to explain their absence. A representative for Arnon, a human rights lawyer, said he had an appointment with a client today. Rangsiman posted on Facebook that he was busy. Both indicated they would appear on Feb. 16.
The other leaders facing sedition charges – Nutta Mahattana, Netiwit Chotiphatphaisal and Sukrid Peansuwan, Sombat Boonngamanong, Veera Somkwamkid – were to be taken across town to the Bangkok South Criminal Court where police will ask the court to jail them until trial.
Srivara told the protesters, who are demanding junta leader Prayuth Chan-ocha keep to elections promised for November, to call off a protest planned for Saturday. He said they would be violating the law by rallying without approval from the police and army.
Story: Todd Ruiz, Teeranai Charuvastra
Update: This article article has been updated to reflect that police have now identified nine leaders instead of seven and that Sombat Boonngamanong and Veera Somkwamkid were among those who reported to the authorities Thursday.