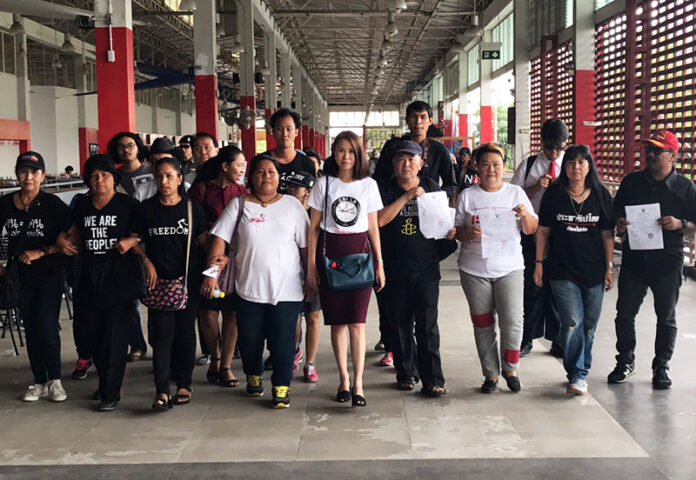 BANGKOK — Anti-junta protesters won a reprieve from police Friday after learning they would immediately be taken to court and possibly jailed through the weekend.
Police agreed to postpone reading charges against the accused until Thursday after lawyers for 27 of the 39 activists charged with violating the Public Assembly Act urged their clients to appeal for more time to prepare their cases. Those who did not appear in person Friday made the same request.
Later Friday afternoon, a deputy national police commissioner said he would reject the compromise and issue fresh summons for the accused. Srivara Ransibrahmanakul said he would urge the court to deny freedom on bail.
"If they flee, who will take responsibility?" he said.
Read: 39 Activists Charged For Protesting 'Near Palace'
A number of dissidents have chosen to flee the country to avoid prosecution they said is politically motivated.
The protesters stand charged with violating the Public Assembly Act for this past weekend's rally that the authorities said took place too close to a royal palace.
Yaowalak Anuphan, head of Thai Lawyers for Human Rights, said the legal team assisting over half of the group is confident it will be able to mount a strong defense if the cases go to court. The charges were filed after a junta representative, Col. Burin Thongprapai, filed a police complaint earlier this week.
The 39 were among 100-plus people who gathered Saturday on the skywalk over Pathumwan Intersection on Saturday to demand junta leader Gen. Prayuth Chan-ocha honor his promise to hold elections in November.
Yaowalak said her law center will have to seek additional assistance from other lawyers to handle the growing number of security-related cases filed against demonstrators. She said the new wave of prosecutions was unexpected, and a sign there will most likely be neither political reconciliation nor general elections – this year or next.
Another lawyer, Kunpat Singhathong of United Lawyers for Rights and Liberty, is assisting protesters too. He said some of the people charged said they were merely there to observe.
Thammasat University lecturer of criminology Sudsanguan Suthisorn was among those charged. Sudsanguan said she merely went as an observer and to take photos with other Redshirt supporters.
Read: Pro-Democracy Activist Flees Prosecution For Royal Insult
"This is a joke," Sudsanguan said.
Asked if she will attend the next rally planned for Feb. 10, Sudsanguan declined to answer.
Suwat Limsuvant, 60, a retired chemistry lecturer, said he was surprised to have been charged as well, saying he was present but uninvolved.
Not all of the 39 charged are little known, however. Their ranks include the most persistent junta critics and visible faces of the pro-democracy movement.
Sombat Boonngam-anong, a prominent anti-junta activist, didn't show up at the police station today and sought his own delay to next Thursday.
He continued to criticize the ruling junta on Friday in a message addressing its members:
"Once this country has been seized, you can continue to reside in the country, but you must seek permission when you want to express your views."
Saturday's protest was said to be in violation of Article 7 of the assembly act recently rewritten by the junta. Article 7 forbids gatherings within 150 meters of royal properties; authorities said Saturday's gathering above Pathumwan intersection was within 150 meters of the Sra Pathum palace.
If convicted, the maximum penalty is six months in jail and fines of 10,000 baht. Seven protest leaders among the 39 were earlier charged with sedition and violating the junta's ban on political gatherings. Sedition carries a maximum prison term of seven years while the ban on political gatherings is punishable by up to six months behind bars and a fine of 10,000 baht.
The activists next plan to rally Feb. 10 at the Democracy Monument.