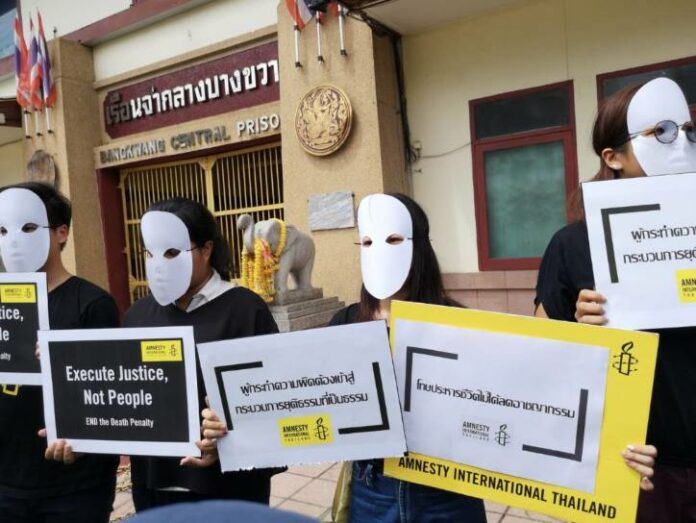 TRANG — A local police investigator Friday downplayed the significance of new claims that an inmate executed earlier this week did not murder a high school student six years ago but acknowledged another perpetrator is still on the run.
After the first execution in nine years sent shockwaves and drew criticism from rights groups here and abroad, police responded to doubts cast on the efficiency of their investigation by insisting witnesses and evidence irrefutably tied 26-year-old Teerasak Longji to the 2012 crime in Trang province, although they have yet to investigate the new claim.
"It's actually not my duty to investigate what is ungrounded. All details are already in the case file," said Lt. Col Prasert Songsaeng, who's in charge of the case. "I'm not going to dismiss it, but if he really knew about the case, he'd have come to us a long time ago."
Prasert said police will seek the unidentified witness for an interview.
The witness's claim emerged yesterday online. In it he said that he and another friend saw two other teenagers repeatedly stab another teen while he was riding a motorbike past the scene. He stopped to see what was happening and had to flee the perpetrators. He said Teerasak, whom he was familiar with, was not present at the time.
Then he saw Teerasak riding toward the scene on a motorbike from the opposite direction and warned him not to continue.
Teerasak was accused and convicted of stabbing a 17-year-old high school student 24 times before stealing his smartphone and wallet. Police said Danudet Sookmak, the victim, was chased about 200 meters before ending up in the park where he was brutally murdered. Danudet's girlfriend was also there trying to stop the culprits, according to police.
On Wednesday, Trang city police said they were still looking for another suspect involved in the crime. The victim's parents said they urged police years ago to look for another perpetrator, but they claim investigators were dismissive, telling them to gather witnesses and evidence themselves.
According to Prasert, police were able to obtain an arrest warrant for Teerasak, who had several drug- and weapons-related crimes on his record, within a day of the murder based on strong witness statements. They captured him the next day. He added that Teerasak has never confessed.
"We're keeping up the investigation to bring in another perpetrator," Prasert said on Friday.
Related stories:
Family Not Notified of Man's Execution
Officials Silent on Thailand's 1st Execution in 9 Years
8 Years Since Last Thai Execution, Future of Death Penalty Uncertain