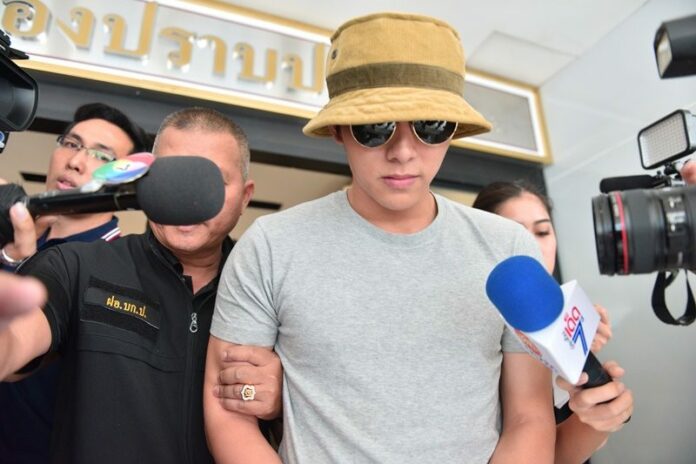 BANGKOK — The sister of an actor linked to an 800 million baht digital currency scam turned herself in Wednesday after his fugitive brother was found to have fled to the United States.
The Crime Suppression Division said Supitcha Jaravijit turned up with her lawyer this morning and was being questioned about her older brother Parinya, accused of conning a Finnish businessman into investing a large amount of Bitcoin to bogus companies. It came six days after actor Jiratpisit "Boom" Jaravijit, her younger brother, was arrested for his alleged involvement.
Division chief Maj. Gen. Maitri Chimcherd said Supitcha admitted to receiving money transfers from Parinya and handling real estate trading for him, but insisted that she didn't know where the money came from.
Maitri added that a raid at Jiratpisit's home yesterday found transaction documents related to the scam, and that police are considering money laundering charges against his parents and some of his relatives.
Jiratpisit was released on a bond of 2 million baht on Friday. Investigators Sunday said Parinya was already in the United States after leaving to South Korea shortly before his arrest warrant was issued.
The three siblings have been charged with money laundering, while police are still weighing fraud charges against them. Assets worth more than 176 million baht in real estate and about 745 million baht from 51 bank accounts linked to the scam have been frozen.
According to the lawsuit, Aarni Otava Saarimaa, the victim, said he got involved with Parinya and two other Thai investors last year, who then persuaded him to invest in several business models, among them was a cryptocurrency called Dragon Coin. Saarimaa, being a digital currency investor himself, was told he could purchase his shares with Bitcoin.
Saarimaa had his representative come to Thai authorities in January after realizing he had been fooled.
Police said Parinya and his accomplices sold Bitcoin from Saarimaa, transferred the money to various bank accounts and laundered it in real estate. Jiratpisit's account received more than 21 million baht and Supitcha's more than 140 million baht.
Prasit Srisuwan, a prominent Thai investor who earlier contacted the authorities to prove his innocence after being named a suspect, was said to have received more than 66 million baht from the sold Bitcoin.
Investigators said they pressed charges against the Jaravijit siblings based on several transactions of the stolen money between their and Parinya's accounts, indicating they could have known about the swindle.
Related stories:
Actor Deemed Flight Risk in 'Dragon Coin' Scam
Actor Busted For Massive Fintech Scam Targeting Foreigners: Cops