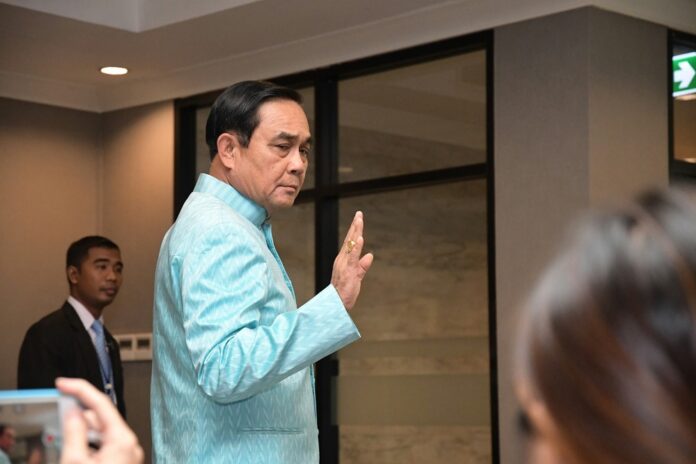 BANGKOK — The junta chairman invoked his absolute power Tuesday and expelled the anti-money laundering director, drawing ire from the regime's opponents.
Using Section 44 of the previous charter, which remains enshrined in the current constitution, Gen. Prayuth Chan-ocha removed Romsit Weeriyasan from his post. The junta has yet to give any explanation, but an opposition leader on Wednesday suspected the junta was asserting its authority over the anti-fraud agency.
"I'd like to raise my suspicion on whether it was because he wasn't responding to the junta's wishes in some cases," Redshirt leader Thida Thavornseth said in an interview. "Was he not complying with the junta's orders?"
Read: Absolute Power Means 'I Can Do Whatever,' Prayuth Says
The move caused surprise not least because the cabinet appointed Romsit, a former police official, to lead the Anti-Money Laundering Office, or AMLO, just a month ago.
"A sudden firing like this must have had some big cause," Thida said.
Prayuth has yet to publicly explain the expulsion, while deputy prime minister Wissanu Krea-ngam told reporters he did not know why the regime chief made such announcement.
Designed to operate independently of the government, the AMLO spearheads investigations in many major scandals, including the ongoing crackdown on multi-million baht embezzlement among some prominent Buddhist temples.
Transparency activist Veera Somkwamkid warned that the post is now left open for the junta to fill with someone obedient to its wishes.
"They will bring in someone new, which will only serve their interest. It will be good for those in power," Veera said in an interview.

Many regime opponents on social media also compare yesterday's announcement to former prime minister Yingluck Shinawatra's decision to remove a spy agency director loyal to the previous government back in 2011.
The director, Tawil Pliensri, later sued the government on charges of malfeasance. The court ruled against Yingluck in 2014 and removed her from office. Thida, the Redshirt leader, believes Prayuth will not face such legal consequence.
"This is even worse than the Tawil case," Thida said. "It shows that they are dictators who can do anything without any concern. They already granted amnesty to themselves. Anything they do is lawful. They don't have to be afraid of any lawsuit."

But Veera, the transparency advocate, said future elected governments could also repeal the junta's amnesty on its acts and pave the way for Romsit to sue over his expulsion.
"They can do anything to protect themselves right now," he said. "But this can be reversed in the future."