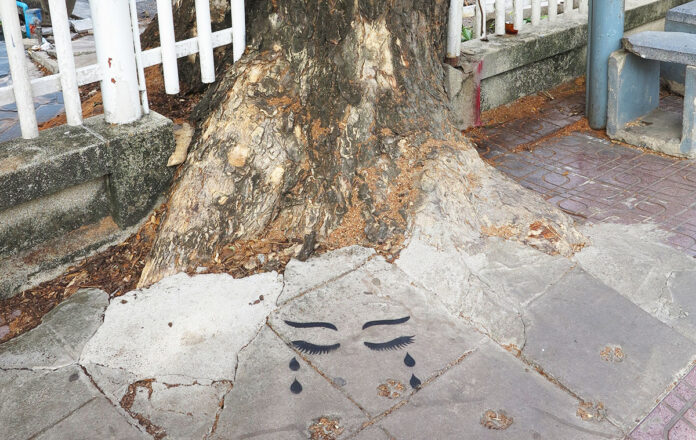 Update: the graffiti has been defaced as of Wednesday afternoon.
BANGKOK — An artist yesterday painted a graffiti near the stump of a 50-year-old tree, the subject of public outrage after being felled by city officials.
Artist Headache Stencil wrote on a Wednesday night Facebook post that he had just made a graffiti of crying eyes next to a rain tree, or Chamchuri tree, felled Saturday on Thetsaban Songkhro Road in Chatuchak district.
Headache Stencil did not reply to messages asking for an interview as of press time.
The post was accompanied by a poem titled "RIP Giant Chamchuri," translated roughly as:
Before, you were a tall, graceful Chamchuri,
Today, not even a leaf is left.
Those people fly everywhere for business trips,
But they cut the heads off necessary things.
The tree has stood for more than half a century,
Want to shut down the problem?
Cut it down, end of story. Only a stump is left.
Idiot, what were you thinking?
Headache Stencil is also behind other topical street art protesting Deputy Prime Minister Gen. Prawit Wongsuwan's undeclared luxury watches and the killing of a black panther by a construction mogul, both of which have been erased by authorities.
Transparency activist Srisuwan Janya on Tuesday filed a complaint against city officials for cutting down the tree citing destruction of public property, since it is partly located on the sidewalk.
Read: Whistleblower Wants Justice For Felled Tree in Chatuchak
Buatong Juttano, 61, a lottery-ticket seller visited the stump Wednesday morning and lamented the loss of the tree.
"What a shame. In Loei they cut down so many trees into thick planks and transport them on 10-wheelers to make carved wood furniture," the Loei province native said. "Now they have to import wood from other places because no more of these trees are left. Each tree is worth tens of thousands of baht, and big capitalists buy them all up. Now there are only stumps left."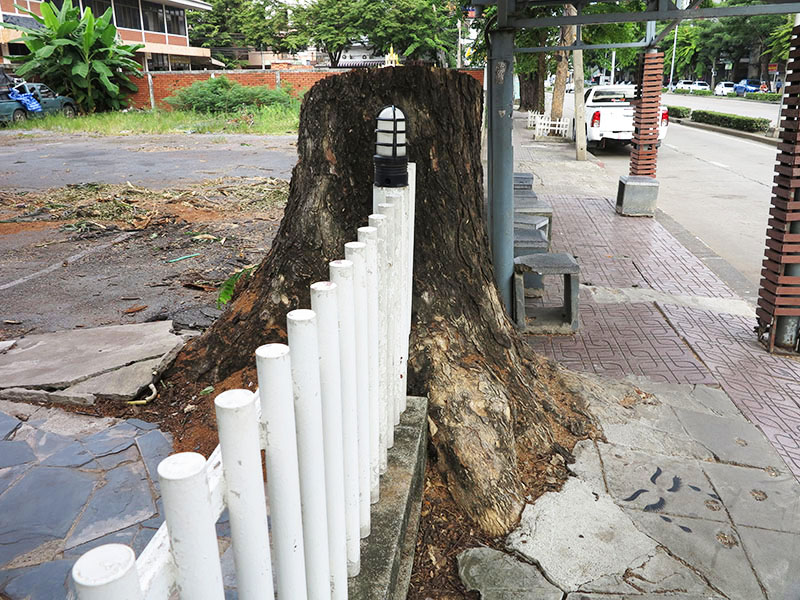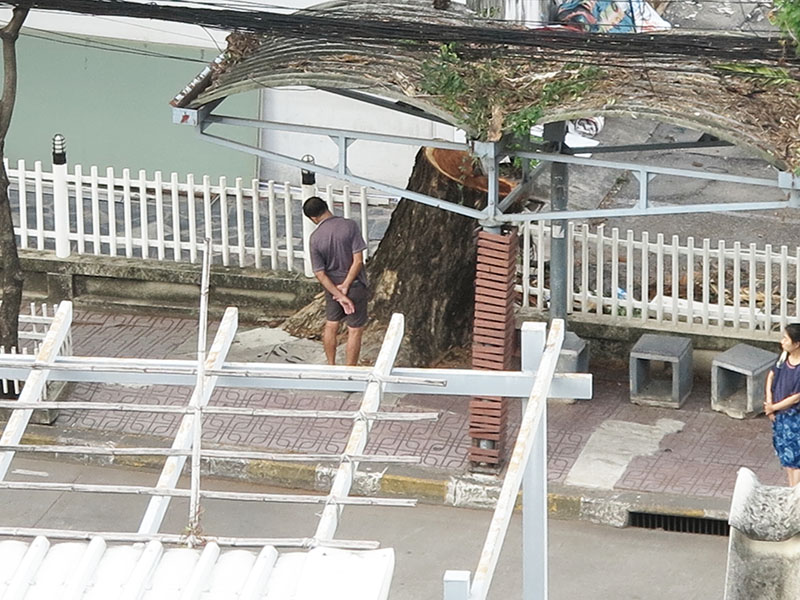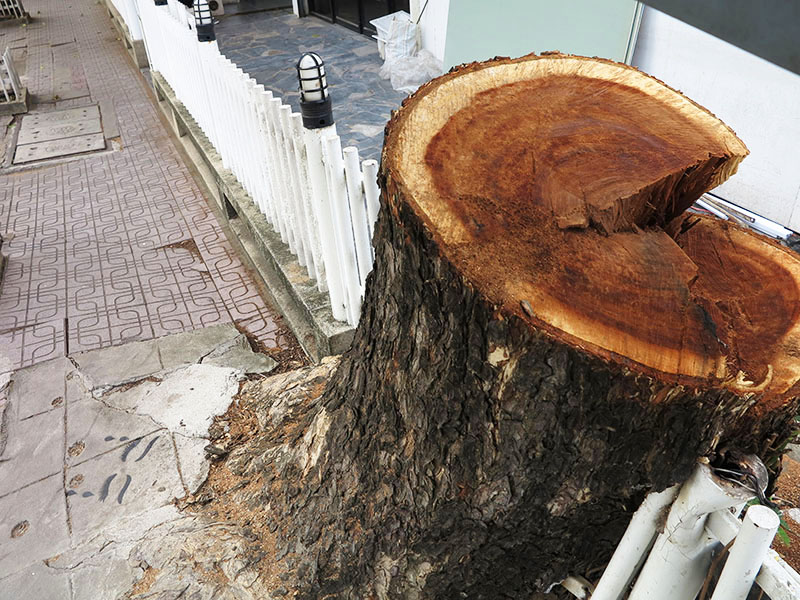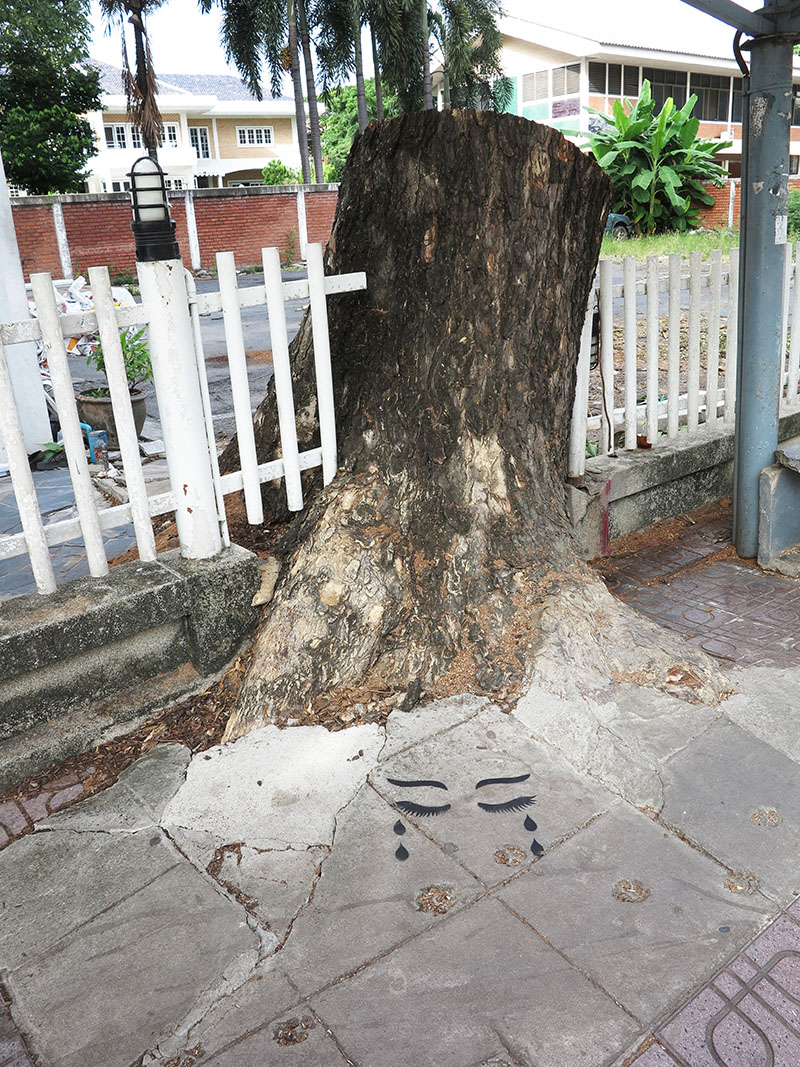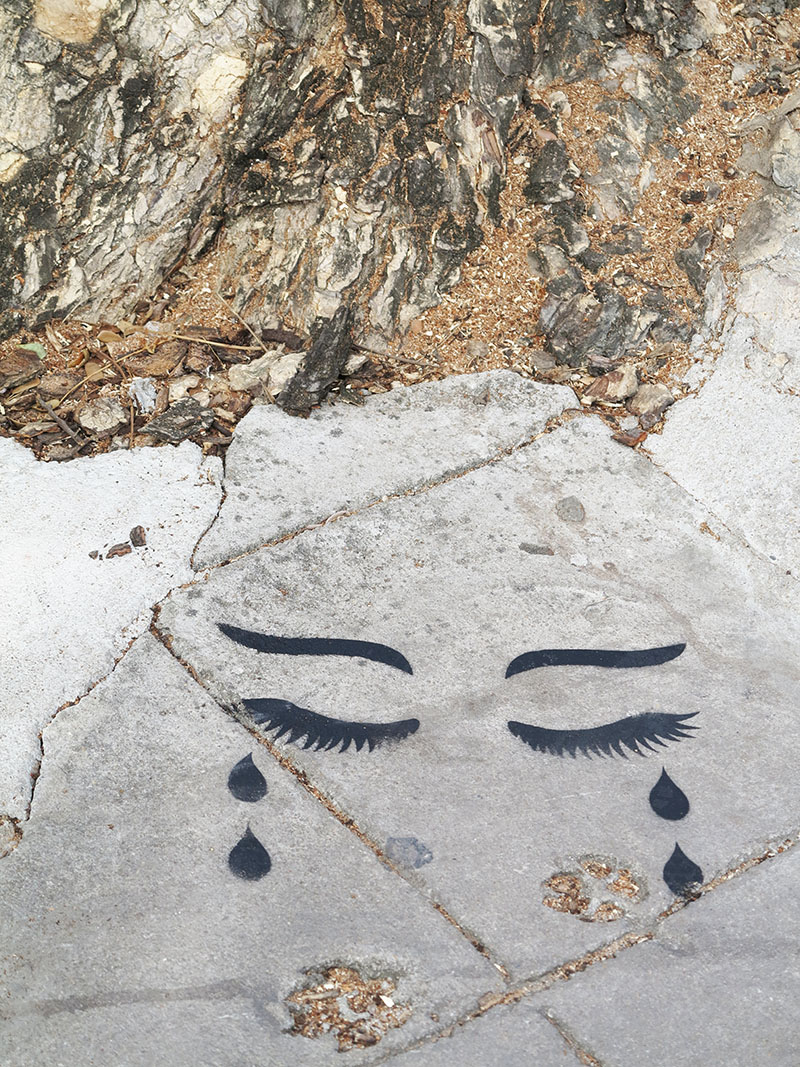 Related stories:
Whistleblower Wants Justice For Felled Tree in Chatuchak
Panther Protest Kept Alive as Property Owners Offer Space