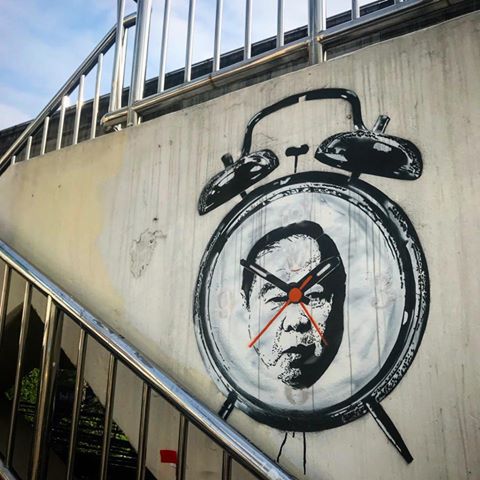 BANGKOK — Only a few days after a stenciled mural mocking the junta's second-in-command appeared over Sukhumvit Road, the artist behind it has gone dark after saying he was being hunted by the authorities.
The anonymous street artist-activist said in a message Monday that he has been on the run after his condominium was surrounded by security forces on Saturday and Sunday. He said they did not have a warrant.
On Saturday he said the authorities wanted to persecute him for expressing himself in a message posted to his Facebook page.
"To the police who sent officers to go to my acquaintances' homes in the middle of the night, your methods are not quite the police's way to do things … I only expressed my thoughts through art, the way it works in other countries," he wrote at the now-inaccessible Headache Stencil page Saturday after his graffiti was whitewashed over. "I didn't kill anyone. You don't need to hunt me down."
Col. Chanin Wachirapaneekul, chief of Phra Khanong police, could not immediately be reached for comment.
Read: Watch Scandal Gets Bangkok Street Mural
Headache Stencil's Facebook as of Monday is no longer available. Only his Instagram and Twitter could be seen with the last update on Sunday.
On Friday he said his work was a wake-up call to the nation over the scandal involving Deputy Prime Minister Gen. Prawit Wongsuwan's collection of dozens of expensive watches worth tens of millions of baht that he never declared among his assets as required by law.
"It's the alarm clock that wakes up every Thai person in the country," he said in a message. "So many Thais just opened their eyes and woke up from an unrealistic dream."
Last week the man stenciled his message on a pedestrian bridge at Soi Sukhumvit 58. The art displayed Prawit's face inside an old-fashioned alarm clock, his face crossed out by the clock's hands.
Although Headache Stencil did not choose to reveal his identity after the political mural appeared, he's clearly identified by name in a number of online interviews.
In an interview with Art Whore, he said that he really started working as an artist when the 2014 coup happened.
"But I really do 'art' on the day military made coup in Thailand," he said in English. "Really angry of soldier on that day. Then go out to make graffiti [sic]."
Related stories:
Watch Scandal Gets Bangkok Street Mural
Corruption Commission to Question 4 Over Prawit Watch Scandal Link
Prawit Watch Watch: And Then There Were Five
Watch Out For Prawit to Say Richard Mille Was 'Loaner'