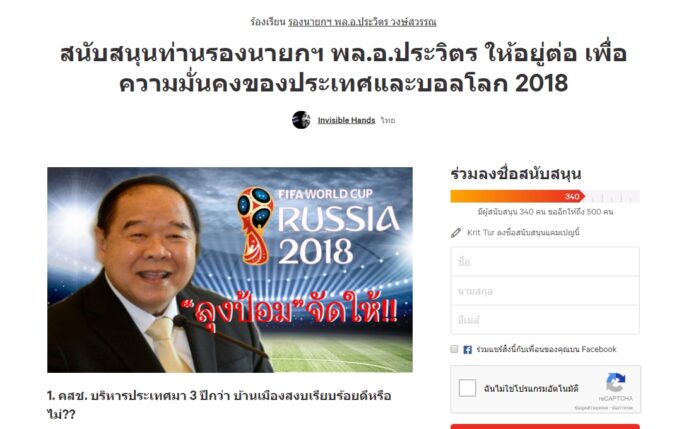 BANGKOK — A transparency advocate and online rights champion lent voices of support to a beleaguered deputy junta leader in an online petition.
The only problem, according to Sarinee Achavanuntakul, Arthit Suriyawongkul and others who've come forward, they never signed the petition on Change.org pleading with Gen. Prawit Wongsuwan, who has been consumed by scandal, to stay on the job.
As it turned out, the majority of the 16,000 names on the petition as of yesterday were bogus. On Monday morning, after a review, the number of actual signatures fell to about 300.
Sarinee, well-known as the founder of investigative news agency Thai Publica, was among the names used without consent for the campaign. She became aware only by chance, when she saw an email Sunday land in her spam folder thanking her for signing the petition.
"If they could go this far on such a minor thing, it stresses the fact that Prawit won't resign," Sarinee said, in reference to the growing call for Prawit to resign for the two-dozen undeclared luxury watches.
The curious petition results come after a small gathering of pro-Prawit supporters gathered outside the Defense Ministry to call for Prawit to stay on, despite public sentiment that he should resign in the face of a scandal over his large collection of expensive – and undeclared – watches.
Those supporters were charged with violating public assembly laws. One of them, a 54-year-old taxi driver, turned himself in to police on Monday. The man said he wasn't aware the rally was against the law.
Another petition launched a day after the one supporting Prawit has gathered just shy of 61,000 signatures as of Monday.
Sarinee said all that was needed to add a name to the petition was a name and an email. She said on the phone Monday that such a list can be easily obtained. Many people, herself included, who attend state-organized seminars, give out their name and email during registration. Sarinee added that she doesn't know if she was personally targeted or not.
Arthit Suriyawongkul, a coordinator of Thai Netizen Network was another victim of identity theft in support of the campaign. Arthit, who was also alerted by an automated email, said Monday that he's not sure whether the online campaign was a genuine attempt to help Prawit or a parody.
"We still don't know the objective of the person behind. Was it genuinely to support Prawit or to create something that would backfire? No matter what it was, the intention was dishonest to use someone's email without the person's consent."