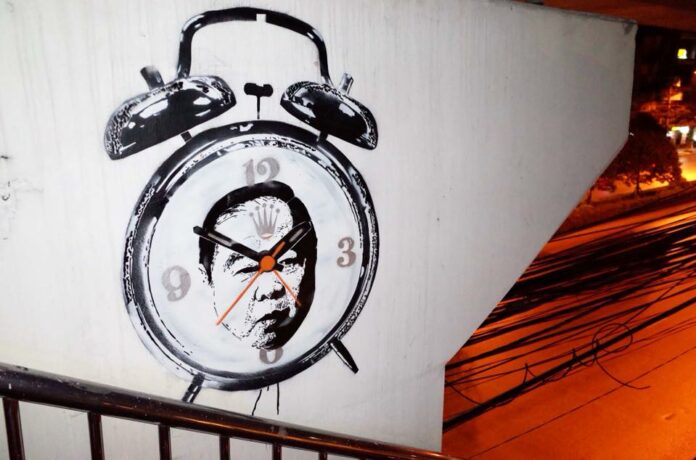 Update 2:50pm Feb. 2: And it's gone.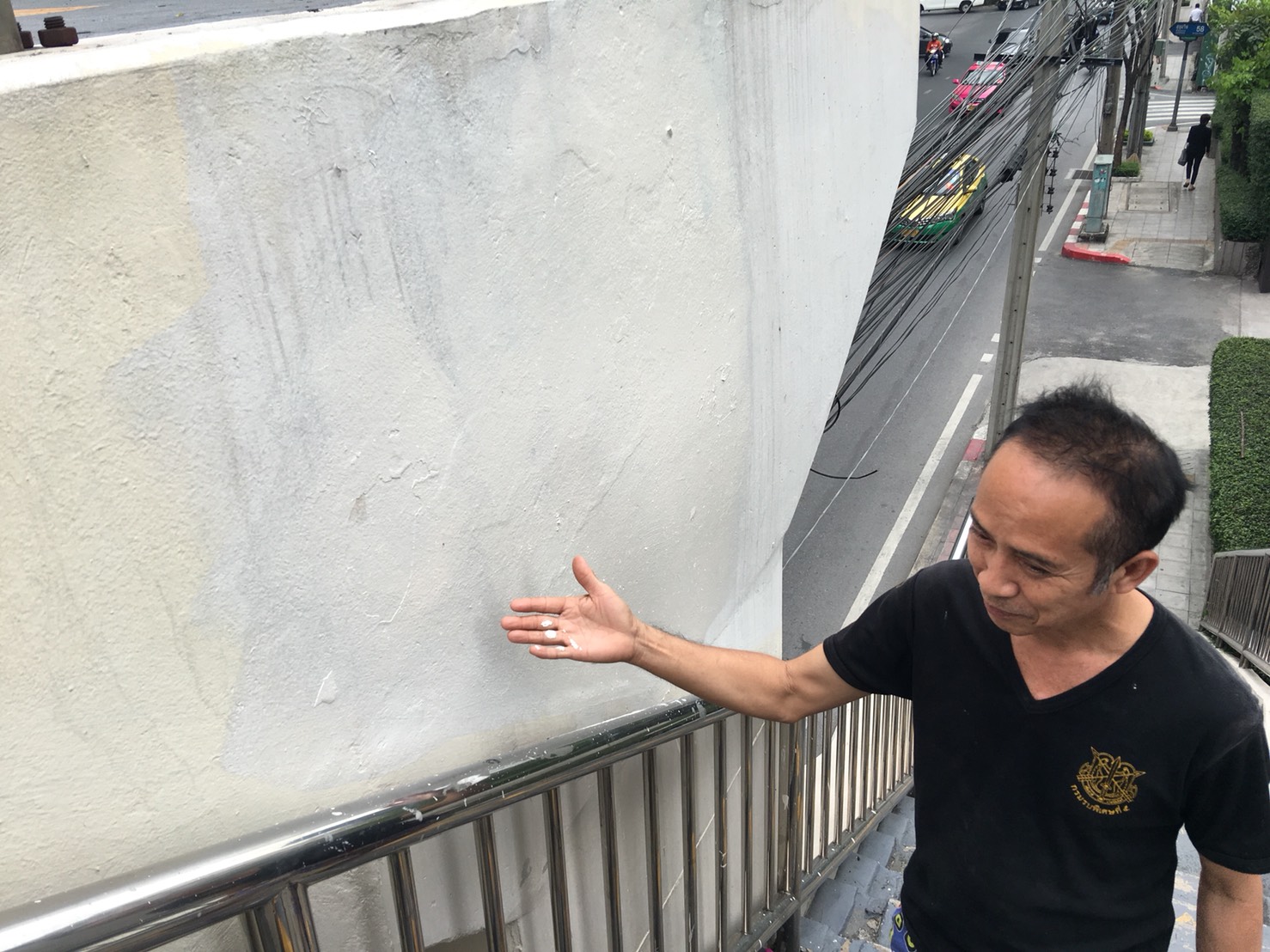 BANGKOK — Ascend a pedestrian bridge over Sukhumvit Road and find a junta deputy chairman staring from a clock.
A street artist-activist on Tuesday night stenciled his message on the pedestrian bridge at Sukhumvit Soi 58. In it, the face of Deputy Prime Minister Prawit Wongsuwan appears inside an old-fashioned alarm clock, his face effectively crossed out by the clock's hands. Images of the mural, which evoke a scandal that has the powerful figure under pressure to resign, were posted on Facebook and Instagram by Headache Stencil.
The Thai artist behind the mural, who was reached for comment over Facebook and declined to identify himself, said he's quite surprised the work hasn't already been painted over since it went up Tuesday night. Previous works, he said, were whitewashed within hours.
But he doesn't expect it to last long either.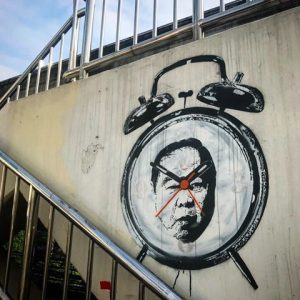 "It should be gone in the next couple days," the man said in a Friday message.
He said he chose the exact spot because it's not watched by a security camera.
Instead of spraying a wristwatch like one of the multi-million baht timepieces that have landed Prawit in hot water, the guerilla artist said opted for a plain alarm clock.
"It's the alarm clock that wakes up every Thai person in the country," he wrote. "So many Thais just opened their eyes and woke up from an unrealistic dream."
"The fact that many people liked and shared the picture obviously shows what they think [about Prawit's scandal]. They dare to talk more, express themselves more these days. I'm a part of that, and I'm very happy."
Junta second-in-command Prawit and his expensive items came under scrutiny in December when a portrait of the new cabinet revealed a flashy and expensive watch peeking out from under the his sleeve. It immediately invited mockery and implicit accusations of corruption against him, followed by discovery of photos showing he's worn more than 24 ultra expensive watches in recent years.
Related stories:
Corruption Commission to Question 4 Over Prawit Watch Scandal Link
Prawit Watch Watch: And Then There Were Five
Watch Out For Prawit to Say Richard Mille Was 'Loaner'
Prawit Given 30 Days to Come Clean on Fancy Watch