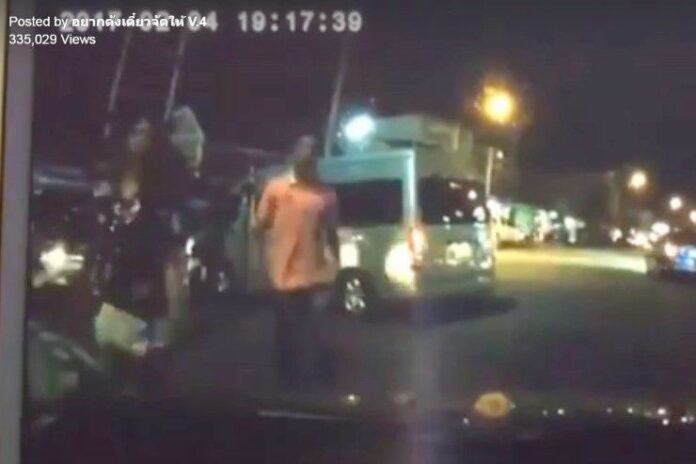 CHONBURI — An engineer who shot dead a 17-year-old boy during a parking dispute last year was sentenced Thursday to 10 years in prison.
The court rejected the self-defense claim of 51-year-old Suthep Poshsomboon and found him guilty of premeditated murder in what began as a roadside altercation in Chonburi province. He was also ordered to pay 340,000 baht in restitution.
The family of Nawapol Puengpai, the victim, said they were satisfied with the verdict, which came a year and seven months after the controversial killing that divided public opinion.
"I'd like to thank the justice system," his mother Maneeporn Puengpai told reporters at the court. "I'll try to live a normal life from now."
Suthep's lawyer said he will appeal the ruling.
The deadly shooting took place Feb. 4, 2017, after Suthep's car was blocked by a van in front of a restaurant in Chonburi province. An argument broke out before the van was moved to let Suthep out.
The prosecutors said Suthep then shouted curses at the van and pursued it. Its driver eventually cut off Suthep and a few teenagers emerged to surround his car, which was also carrying his wife, mother and nephew.
Suthep said he was attacked by Nawapol and other teens when he stepped out, forcing him to pull out a 9mm handgun and fire the single shot which struck Nawapol.
In interviews with the media, the engineer said he was acting in self-defense to protect his family. Clips showing incomplete accounts of the incident fed divided reactions, with one side sympathizing with Suthep and the other arguing he used unnecessary force.
Police later released dashcam video from Suthep's car in which he could be heard inside the car telling his family he was ready to use his weapon.
"I've prepared. I'll just shoot them," Suthep said to his wife after she asked him to surrender the gun to her.
In today's verdict, the court said Suthep readied his unlicensed firearm right after the argument broke out, indicating his intent to cause harm. The court also faulted the defendant for pursuing Nawapol's van and honking at him even after the van left the scene.
Suthep was initially given 15 years in jail, but the court cut the sentence by a third because he did not flee the scene and immediately admitted to firing the fatal shot.