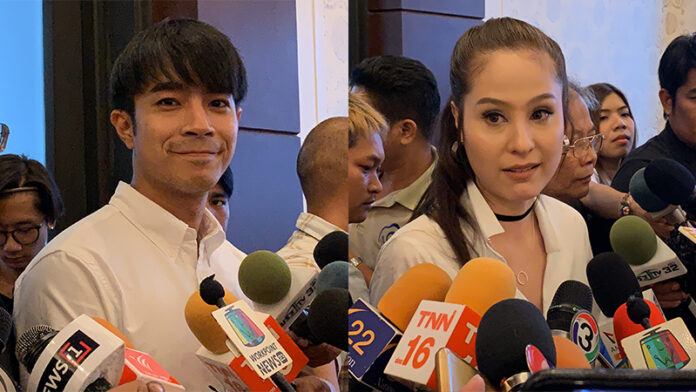 BANGKOK — Three celebrities have narrowly avoided prison despite being found guilty of falsely advertising unlicensed dietary supplements. Their rulings are the first in a wider scandal implicating 13 celebrities.
Singer Nathathai "Faii Amfine" Saengphet and internet celebrity Saira Mirror reported to the police on Wednesday for breaking food and drug regulation laws by promoting the dietary supplement "Magic Skin", which authorities have deemed to boast exaggerated promises.
Nathathai was taken to the Food and Drug Administration office to pay a fine and end her case, while Saira Mirror was taken to the Bangkok South Municipal Court to hear her sentence. Mirror's case is more severe because authorities deemed her claims to be more misleading.
Yesterday, the court convicted actor-singer Kanokchat "Typhoon KPN" Munyad-on of the same charges as Nathathai.
Kanokchat was fined 30,000 baht and sentenced to a year in prison, but the court suspended his sentence because he confessed.
"I did check the product for Food and Drug Administration serial numbers and I saw that many celebrities had reviewed the product, so I thought there was nothing wrong with it," Kanokchat said after reporting to the police. "But apparently, it turned out to be an illegal product."
Read: Police Summon Celebs for Endorsing Unapproved Cosmetics
Another celebrity, Usamanee "Kwan" Waitayanon, was charged on Tuesday with the same crime but paid a fine to end the case.
They are among 13 celebrities who have been implicated in falsely promoting "Magic Skin", which paid them to post photos of themselves holding the product with a caption lauding the benefits.
Police summoned Kanokchat, Usamanee and three others celebrities on Tuesday. Three of them – Sutatta "Punpun" Udomsilp, Wichian "Petjah" Kusolmanomai, and Hansa "Nuclear" Jungviwattanawong – have postponed their summons until 13 June. The remaining six implicated stars have yet to be summoned.
Magic Skin first came to infamy in February 2018 when the authorities raided the company in Nakhon Ratchasima after receiving complaints of over-advertising and adverse effects from users.
The product was later found to be using bogus FDA serial numbers. Eight people were arrested in April 2018 in connection to the product.
Related stories:
Celebs Unlikely to Stop Hawking Deadly Supplements: Expert
Celeb Sues for Fake Endorsement After Diet Pills Kill 4
Celebs Say They Were Fooled by Fake Makeup Firm
9 More Celebs Summoned for Advertising Fake Cosmetics