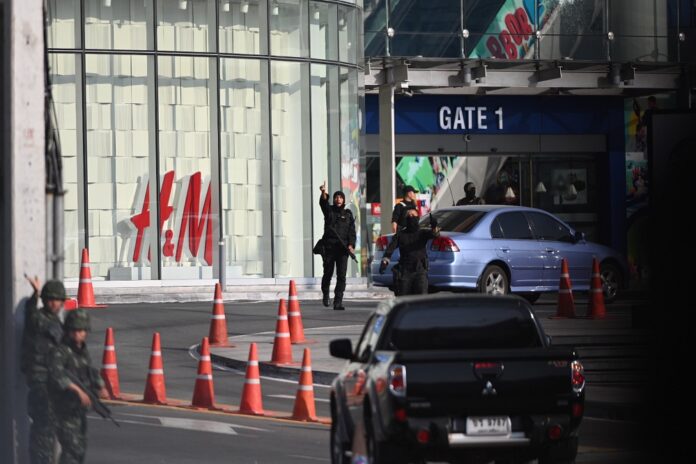 Update: Police on Sunday evening said at least 30 people were confirmed dead in the shooting spree.
KORAT — Police say a soldier who killed 30 people in a shooting rampage in Korat was shot dead in a police assault, bringing hours-long siege to an end.
Sgt. Jakkrapanth Thomma, who stole military grade weapons from his base in Nakhon Ratchasima on Saturday before going on a rampage that left multiple victims dead, was killed during a police operation at Terminal 21 shopping mall where he spent hours holed up inside, according to the police at the scene.
The news was also confirmed by deputy PM Anutin Charnvirakul, who posted online that the gunman has been killed.
At least 30 people were killed in what appeared to be Thailand's worst mass shooting in modern history. Another 42 people were also wounded, Nakhon Ratchasima governor said. The killings also came on a long weekend marking the Buddhist holiday of Makha Bucha.
In a news conference, PM Prayut Chan-o-cha said he has ordered all relevant agencies to assist the victims and their families who suffered from what he called an unprecedented outburst of violence.
"I have to admit that this kind of situation never took place in Thailand before," Gen. Prayut said in Korat. "And it must not happen again."
The Prime Minister said investigation into the incident is ongoing and thanked members of the public for donating blood in response to the carnage. He also defended the lengthy siege, saying that security officers had to take all necessary precautions when advancing inside the sprawling mall complex.
The latest fatality was a member of a police commando team was shot dead while engaging in a firefight with the gunman inside Terminal 21 shopping mall at about 4am, according to media reports.
Police sources said Jakkrapanth was killed at about 9am in the "Foodland" area of the shopping mall's basement level. According to the officers, Jakkrapanth was discovered hiding inside the supermarket and shot at the police, forcing them to return fire.
EOD teams were deployed to search for possible explosives brought by the gunman.
Motives for the murders were unclear, but the dead victims include Jakkrapanth's commanding officer at the base, who was said to be involved in a dispute over money loans with the soldier.