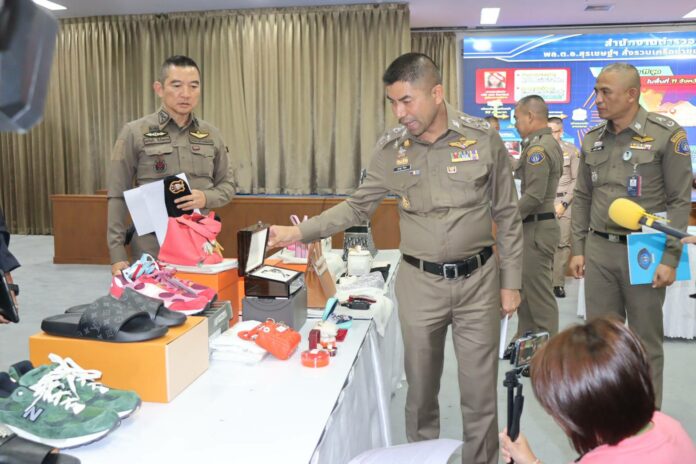 BANGKOK — Police on Friday said they arrested 14 people suspected of running an online gambling network which might have been responsible for the cyanide serial killer.
The arrests were made after police concluded the investigation into the "Am Cyanide" case, a woman accused of murdering at least 14 people by lacing cyanide into their food, and found that the suspect, Sararat "Am" Rangsiwuthaporn, 36, had massive online gambling debts, deputy police commissioner Surachate Hakparn said.
Pol. Gen. Surachate said a large amount of money circulated in Sararat's bank accounts was linked to the online gambling website Fun88, where she allegedly used stolen money from the victims she murdered to place bets.
The suspects arrested were accused of operating the website, which circulated about 250 million baht in bets. They were charged with organizing a gambling and money laundering. Warrants were issued for 21 suspects, but only 14 were arrested so far, Surachate said.
Police also seized their assets worth over 15 million baht, which included three cars, luxury goods, and bank accounts.
In what the authorities called Thailand's worst-ever crime, Sararat was arrested in April following an investigation into a friend's death, who died on a trip with her earlier that month. The subsequent investigation connected her to the killings of 14 others, who had died in a similar way, and an attempted murder as the victim survived.
The murders began in 2015 and were motivated by financial reasons, police said.
Sararat stands accused of 75 charges including multiple counts of premeditated murder, thief, and adulterating food. Her ex-husband, Withoon Rangsiwuthaporn, and her ex-lawyer, Tannicha Aeksuwannawattana, were also accused of concealing evidence.
Sararat is being detained at a prison, while Withoon and Tannicha are currently out on bail.
________
Related news:
Police Close Thailand's Historic Case of Serial Killer 'Am Cyanide'