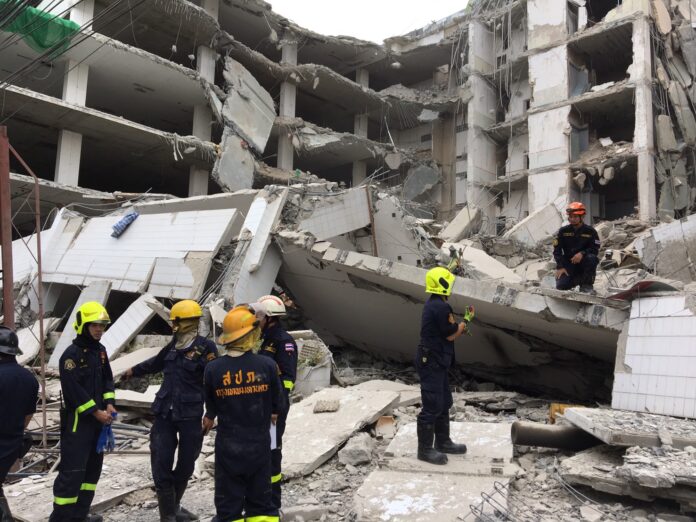 BANGKOK — Rescue animals were searching for a construction worker Friday afternoon trapped inside a collapsed building in Soi Sukhumvit 87 where at least three people have died.
Rescue workers, Phra Khanong police and firemen rushed to the scene at 9:30am after four workers were caught in the rubble of a six-story building that collapsed while being demolished.
At least three workers were killed.
The nearby Wells International School reportedly evacuated students.
Eight people were inside the building at the time. Four escaped, three of whom were injured. Four remained trapped, three of whom were killed. Two bodies have already been recovered so far.
As of noon, one person was still waiting to be rescued. Officials said they could hear cries for help.
The nearby Wells International School reportedly evacuated students.
Sant Tongsuk, Phra Khanong public works chief, said the building had been greenlighted for demolition. Work was ordered stopped on Dec. 2 after falling rubble injured several people in the area. Sant said the building's management was told to present a revised, safer demolition plan.
Since then, Sant added, no new plan had been submitted. The reason for the collapse has not been determined yet.
Police Lt. Gen. Sanit Mahathavorn said the apparent continuation of work went against the orders of public works officials, and police are investigating who was behind the work.
This is a developing story and will be updated without notice.