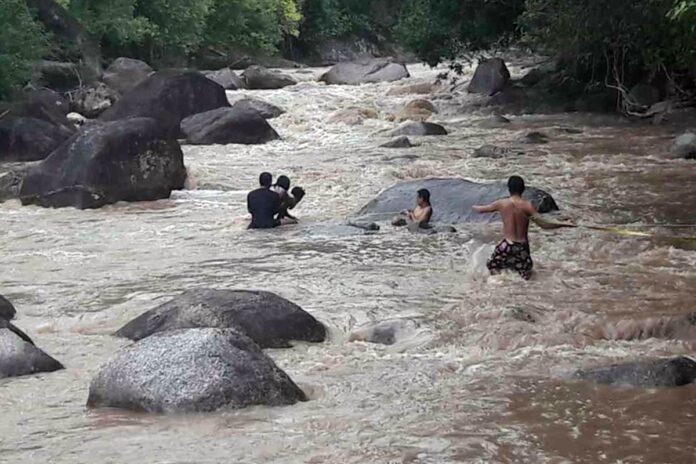 PHATTHALUNG — Nine tourists had to be rescued Monday after they became trapped by flash flooding on a rock at a popular waterfall spot in the south.
The three adults and six children became trapped atop a rock in the middle of Na Bon River below the Ma No Ra Waterfall for about a half hour when floodwaters rose, preventing them from returning to dry land.
Dolarongsak Junsoh, 33 of Songkhla, said his family began playing below the falls at noon, about two hours before a light rain began. By 4pm, the current started to change.
"I noticed the water was getting muddy and red, so I called my children up from the water," Dolarongsak said. "Suddenly there was a ton of fast water, so my family and I couldn't get to shore."
Eventually some passing campers and emergency officials came to the rescue.
Three young men in the area saw the Junsohs' predicament and threw their tent ropes to the stranded family. Emergency officials arrived on the scene and aided in the rescue of the nine people, who were brought to safety by 4:30pm.
Flooding in southern provinces along the Andaman coast is expected through Sunday.