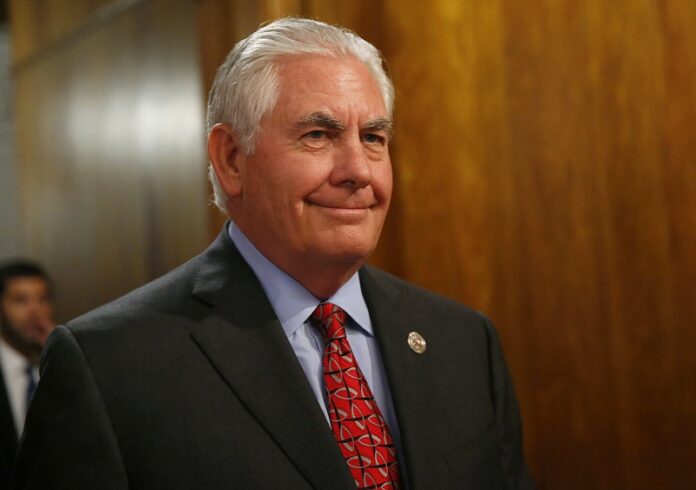 BANGKOK — US Secretary of State Rex Tillerson is due to arrive Tuesday to discuss issues of cooperation with the military government.
Officials said the visit is also meant to prepare junta chairman Prayuth Chan-ocha for a trip to the White House three months after he was invited to visit by President Donald Trump. No date has yet been set for Prayuth to travel to Washington.
According to a schedule released to the media by the Ministry of Foreign Affairs, Tillerson will meet his Thai counterpart Don Pramudwinai, and discuss a number of matters, including the regional situation and further cooperation between the two nations.
Tillerson – the highest ranking US official to visit Thailand since the 2014 coup – is also scheduled to pay his respects at the Grand Palace and sign a message of condolence for the late King Bhumibol.
With formal relations dating back to 1832, Thailand is the oldest ally of the United States in Southeast Asia.
The relationship suffered setbacks after Gen. Prayuth ousted an elected government in the May 2014 coup. Ultranationalists bombarded social media with accusation that Americans attempted to sabotage the military regime.
Relations reached a low mark in 2015 when US ambassador Glyn Davies was investigated for remarks he made about the monarchy.
But President Trump's rise to power and expressed lack of interest in promoting human rights appears to have invited a normalization of bilateral relations. Trump has been looking to shore up support throughout Asia against North Korean nuclear provocations. He called Prayuth along with other regional leaders on April 30.
Trump has also been keen on strengthening relationships with Southeast Asian nations, which have seen a growing influence from China over the past years. Tillerson and his Chinese counterpart Wang Yi along with the North Korean foreign minister attended a recent ASEAN foreign ministers meeting in Manila.
The meeting between Trump and Prayuth was initially supposed to take place in July but has been indefinitely postponed.
On Monday the junta chairman suggested he might still be unwelcome in Washington, causing much confusion about whether he would be able to make the trip to America after all.
"Today the foreign nations still trade with us. They only banned me from visiting them, because I'm the leader of the [junta]," Gen. Prayuth told an audience in Ayutthaya province. "But it's okay, because the deputy prime minister and ministers can visit other countries. We can trade with other countries."
Foreign affairs minister Don told reporters Tuesday the junta chief was referring to earlier times.
"He meant the first year since the coup," Don said.
Related stories:
Citing Trump and Prayuth, Student Activist Rejects American Invite