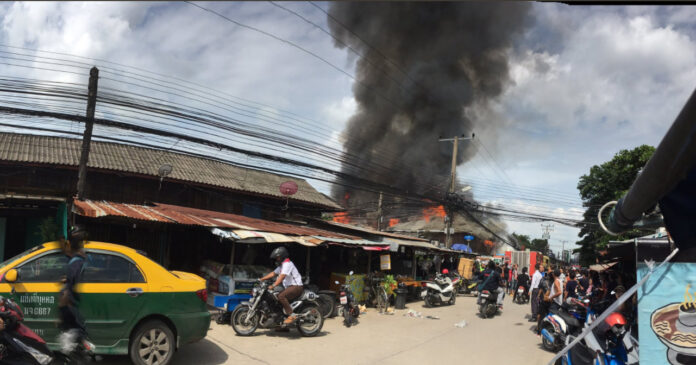 BANGKOK — A fire in north of Bangkok is sending up a large column of smoke Tuesday morning.
A wooden house is burning in the Baan Pak Rot Fai neighborhood located on Vibhavadi Rangsit Road in the Chatuchak district in northern Bangkok.
"The fire is completely out, but there were some spots where it flared up again and firefighters had to hose it down," Senior Sgt. Maj. Jinda Varinin of Bang Sue police said as of 11:05am. "There have been no reports of any casualties yet.
Live! เหตุไฟไหม้บ้านเรือนประชาชนในชุมชนบ้านพักรถไฟ วิภาวดี ซอย11 จนท.กำลังควบคุมเพลิง https://t.co/3YDrbXY2yi #JS100 pic.twitter.com/6Atb1531bg

— JS100 (@js100radio) September 5, 2017
@js100radio ไฟไหม้ซ.วิภาวดี11 กลุ่มควันหนามาก เจ้าหน้าที่กำลังดับไฟ แต่ยังคงได้ยินเสียงรถดับเพลิงดังเรื่อยๆค่ะ pic.twitter.com/1mZeB6oxEQ

— pearreer (@PJ_Rolling) September 5, 2017
ไฟไหม้ตลาด กม. 11 ชุมชนรถไฟ ซอยวิภาวดี 11 @js100radio pic.twitter.com/X7m3UWCh04

— Yothin I. (@yothinin) September 5, 2017
ถ่ายจากซ.รัชดา19 ควันยังหนาแน่น pic.twitter.com/cUx3tFrdIV

— Ard (@ard842) September 5, 2017
09:52 เพลิงไหม้บ้านเรือนประชาชน ภายในชุมชนบ้านพักรถไฟ กม.11 ถ.วิภาวดีรังสิต เขตจตุจักร จนท.กำลังดำเนินการ pic.twitter.com/4OlSCHzKO4

— JS100 (@js100radio) September 5, 2017