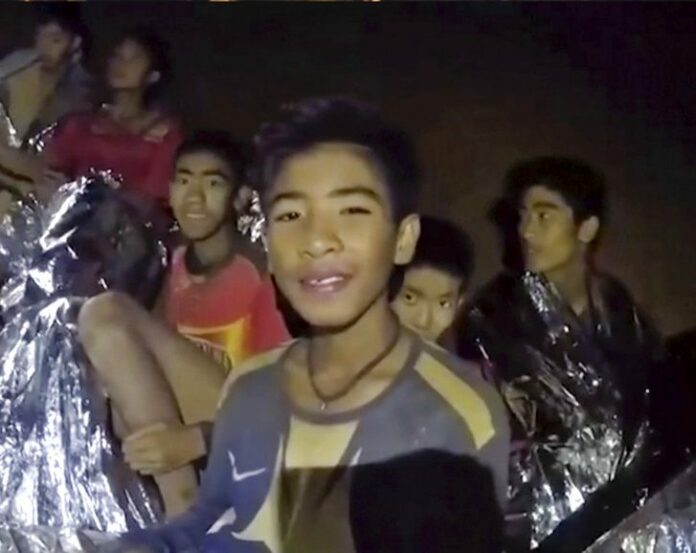 By Jintamas Saksornchai and Todd Ruiz
CHIANG RAI — All eight boys rescued so far are in good condition but being kept in isolation due to concerns of infection, a top health official said Tuesday.
None of the boys has met with their families, but the first four rescued Sunday from the Luang Khun Nam Nang Non cave have been reunited through a glass partition, according to Jedsada Chokdamrongsuk, permanent secretary of public health.
Update: That's Ten: Another Boy Rescued From Cave
"There's no concern about long term effects," Jedsada said at a press briefing held at the Chiangrai Prachanukroh Hospital. "Everyone seems healthy."
Jedsada said two of the boys had possible lung infections. All are eating easily digestible food. One boy came in with a very low body temperature and irregular heartbeat, but his condition is stable now.
Quarantine procedures are in effect. He said all boys have high white blood cell counts, and lab results will be back within two days.
If they show that the boys do not have any serious diseases, their families will be allowed to visit.
None of the boys has been identified.
The eight rescued so far are 12- to 16-years-old, according to a hospital document. That would suggest the youngest boy, 11, remains inside with three other members of his football team and their coach.
Four were brought out Sunday and another four Monday. The rescue is expected to continue today with at least four more attempted extractions.
Additional reporting: Chayanit Itthipongmaetee
Related stories:
Eight Out Alive: More Daring Cave Rescue Success!