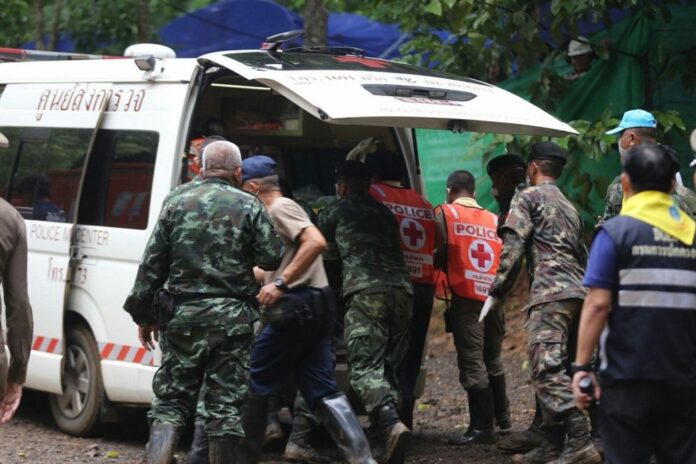 CHIANG RAI — The head of the cave rescue operation said today's mission to save the boys trapped inside could happen faster than yesterday.
Narongsak Osottanakorn said divers entered the cave at about 11am this morning and headed for the rest of the youth football team stranded in the Luang Khun Nahm Nang Non cave complex. He also said several media agencies are being investigated for listening to police radio communications and flying drones during Sunday's operation.
Update: That's Ten: Another Boy Rescued From Cave
"We're ready 100 percent and expect everything to be complete faster than expected," Narongsak told reporters.
Four of the Wild Boars football team members were evacuated at about 5:40pm yesterday, after 16 days inside the cave.
Read: 4 Boys Rescued From Cave 'All Safe'
All four are healthy but have to be quarantined at a Chiang Rai hospital, away from their families, because of concerns about having contracted infections, Narongsak said.
In the meantime, police are investigating some media agencies for allegedly intercepting police radio chatter for their news coverage, Narongsak said, without naming any news site. The use of drones was also slammed by the rescue operation leader.
"Two drones were flown near helicopters, and we're looking at who was responsible, but I've heard that police have identified them," said Narongsak, who until recently held the post of Chiang Rai governor. "It's an interruption to the operation, and I've asked twice. It's regrettable, but most of you have been cooperating very well."
Choorat Panngao, a deputy regional police commander, said drones are not allowed close to the airfield, designated as a medevac site for the rescued children.
"Although pilots are not flying it doesn't mean you can still fly [the drones] because we're on standby all the time," Maj. Gen. Choorat said at the news conference. "The unforgivable thing is the bugging of police radio. Please stop. If it's clearly illegal, action will be taken."
"You don't have to ask who is being investigated," he added.
On Monday, news station PPTV apologized for flying drones close to the helicopter site. In an online statement, the channel said it did not intend to break any regulations.
LIVE TRANSLATION: Day 2 Rescue Briefing

โพสต์โดย Khaosod English เมื่อ วันจันทร์ที่ 9 กรกฎาคม 2018