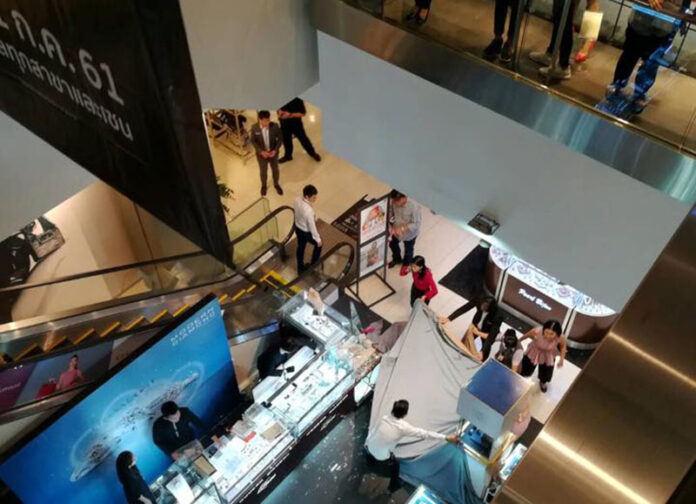 BANGKOK — A middle-aged woman fell to her death late Tuesday afternoon in a mall in the north of the capital.
At about 4:40pm, a 42-year-old woman fell onto a jewelry booth inside CentralPlaza Lardprao from the sixth floor.
"I can't rule if it's a suicide or not yet," police Capt. Kittipat Saksanit said. "I'm checking the security tapes."
Mall staff had cordoned off the area as of 5:10pm, according to FM 91 radio.
ล่าสุด 17.10 น. จนท.ห้างฯ กันพื้นที่ เกิดเหตุ ผู้พลัดตกจากที่สูง เสียชีวิต
– มีผู้พบเห็นเหตุการณ์ ระบุว่า ผู้พลัดตกจากที่สูง เป็นผู้หญิง สวมเสื้อลาย ขาว-ดำ กางเกงขายาว รองเท้า สีแดง ตกจาก ชั้นโรงภาพยนตร์ pic.twitter.com/23MPxn333S

— สวพ.FM91 (@fm91trafficpro) July 10, 2018