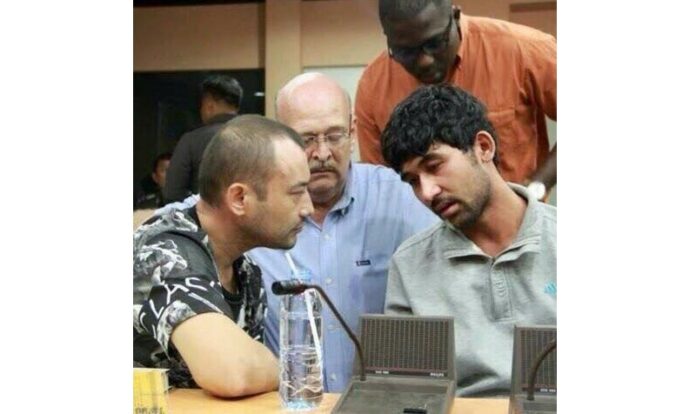 BANGKOK — The volunteer court interpreter for the two Uighur men on trial for last year's bombing of the Erawan Shrine said he is innocent of drug charges and worried about his safety, as police contend preliminary results speak to his guilt.
Uzbek national Sirojiddin Bakhodirov, arrested June 1 after complaining of intimidation to a military tribunal, denied using drugs and said he was being targeted for helping the bombing suspects in court and advocating for the more than 200 Uighurs under detention in Songkhla province.
"I am Muslim. I never do drugs. And these drugs didn't have my fingerprints," 38-year-old Bakhodirov said Sunday, contending officers planted drugs on him. "And they already tested in the hospital that I was cleaned."
Bakhodirov said police told him in court he did not test positive prior to releasing him on bail.
Police deny that. Lt. Col. Siriphong Phumlaojang of Lumpini Police Station said Bakhodirov tested positive the day he was arrested. He has not yet been charged for drug use, Siriphong said, because they are still waiting for a detailed report from the Royal Thai Police Hospital, 13 days after Bakhodirov was tested.
"We cannot charge him from the results of the preliminary test," Siriphong said. "It could also come from other substances, like when you hear about people claiming their violet urine came from cough syrup."
Regardless of the investigation and criminal proceedings against Bakhodirov play out, the case has impacted the trial of Uighur-speaking Yusufu Mieraili and Adem Karadag, for whom the defense has struggled locating qualified interpreters.
After Bakhodirov's arrest and drug test, the defense team distanced itself from him and decided not to offer legal aid.
Schoochart Kanpai, the lawyer representing Karadag, said the evidence seemed clear enough.
"I think it is better if he just pled guilty," Schoochart said.
They have been seeking a new translator.
In a wide-ranging interview on Sunday, Bakhodirov disputed statements by both lawyers and authorities that he had overstayed his visa in Thailand, saying his passport was being renewed at the Uzbek embassy.
Bakhodirov, due in court Wednesday, said he was indigent, had no legal representation and had not been offered any help.
Persecution Claims
A few hours before his arrest on June 1, Bakhodirov testified in military court that he was assaulted and threatened by four men who told him to stop working on the bombing case.
Asked why he thinks he, as a translator, would be targeted, Bakhodirov said some authorities believed he instructed the two suspects to make a public display of their innocence before the media on May 17.
"[The] police translator in the court said, 'You teach these men to make drama,'" he said.
Based on his conversations with Karadag, aka Bilal Muhammed, he said Bangkok has allowed Chinese government agents access to the defendants.
The Aug. 17 bombing has been widely attributed to Thailand's capitulation to Chinese pressure to forcibly repatriate more than 100 Uighurs last year.
"Two Chinese authorities came to the prison for interrogation two times last year in September and October," he said. "Bilal told me."
After being released on bail, Bakhodirov said he was taken to a military garage in Soi On Nut 17 where an officer told him to stay in order to be safe until his next court date.
The Uighur interpreter claimed he left the site on Sunday after being asked by a high-ranking officer to spy on defense lawyer Schoochart and others in the case to provide evidence they are Redshirts opposed to the monarchy.
Related stories:
Bombing Trial Interpreter to Face Drug Charges in Court
Bombing Suspects' Interpreter Says Cops Plant Drugs on Him
Bombing Suspect Interpreter Arrested After Telling Court 'I Worry About My Life'
Bangkok Bombing: Chinese Uighur Karadag Tortured Into Confession, Lawyer Says