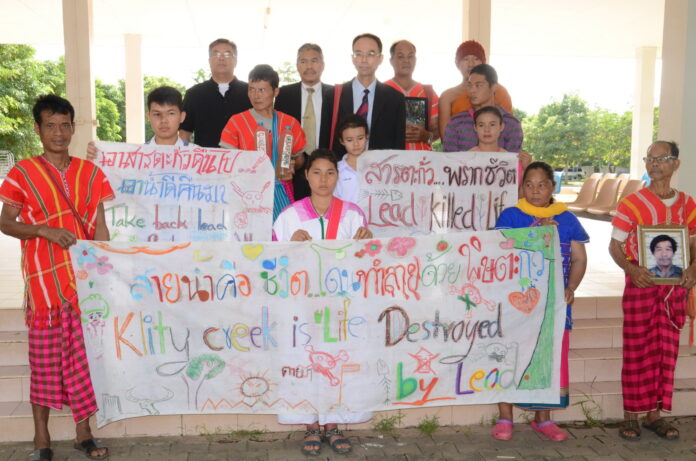 KANCHANABURI — One of Thailand's longest-running cases of environmental litigation ended after 13 years Thursday with ethnic villagers prevailing over the company which sickened them by dumping lead into their water supply.
Activists said a new standard was set by the Supreme Court in the case of Klity creek when it ordered Lead Concentrate Co. Ltd. to pay 20 million baht to the residents there.
"It's been more than 10 years that we've been sick," said Kamthorn Srisuwanmala, one of the original eight members of Karen community members to sue the company in 2003 for pouring lead into their creek, which caused severe health effects. "Some of us died, as well as some of our pets."
The highest court's decision to uphold previous verdicts against the company – but lower the payout – effectively brought an end to the 13-year case for what is regarded as one of the worst ever environmental disasters in Thailand.
Moreover the court verdict broke new ground, according to activist and lawyer Suraphong Kongchantuk, for enforcing a 1992 environmental law for the first time.
"It will help in setting a new standard for other cases in Thailand," he said.
The lead mine, which opened in 1967, was ordered shut in 1998 after the nearby creek was confirmed to be contaminated.
High levels of lead contamination were found in 151 locals resulting in many kinds of illness ranging from body aches to blindness. Some pregnant women reported having miscarriages and the youth were to suffer slow development of their bodies and brains. At least one death was blamed on lead toxicity.
Mine operator Lead Concentrate and the Pollution Control Department were ordered to restore the creek, but by 2015, trace lead was still found in the soil and plants at Klity creek.
Eight local Karen sued the company in 2003, demanding 119 million baht compensation. In 2008, the Appeals Court ordered the company to pay 29 million baht.
Despite prevailing Thursday in court, compensation was not immediately paid.
Villagers will have to closely follow the implementation of the verdict as the company has already gone out of business and its owner, Kongsak Kleebbua, is dead. Responsibility for payment falls to his wife, Suladda Kleebbua, who was the second defendant named in the suit.
Related stories:
Junta Orders All Gold Mines Shut Down
Amnesty Calls on Thailand to Reopen Investigation into Activist's Murder