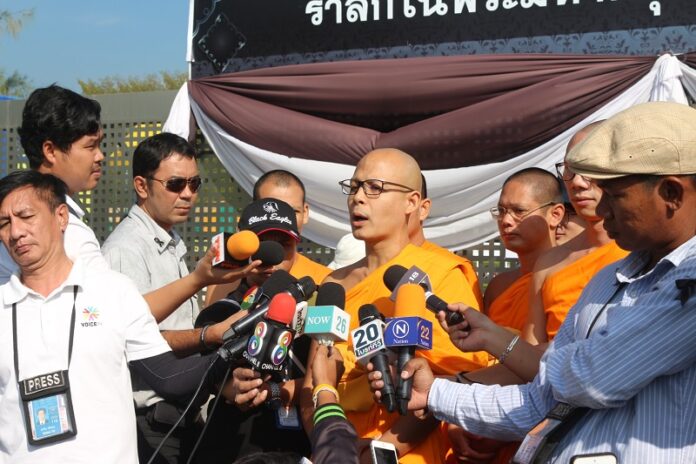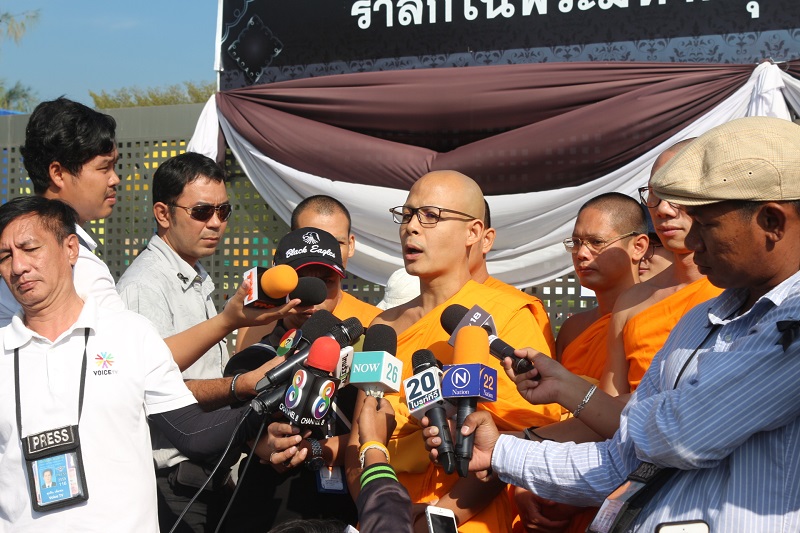 PATHUM THANI — As police gathered around the Dhammakaya Temple headquarters in Pathum Thani on Tuesday to execute a search warrant, the temple filed a motion for judicial relief.
Temple lawyer Thatchanon Pornbaiyoke filed an emergency appeal with the Criminal Court asking that it overturn a search warrant authorizing law enforcement to enter the sprawling temple grounds north of Bangkok in a bid to arrest its fugitive long-time abbot. No officers from the Department of Special Investigation had attempted to enter the temple as of early Tuesday afternoon.
Read: Dhammachayo Removed As Abbot of Dhammakaya
Tensions have been mounting in the protracted stand-off which for six months has seen the influential sect defy the authorities and shield its leader Dhammachayo, who was formally demoted Thursday by the national religious authority. The 72-year-old faces embezzlement and land encroachment charges, but police have been unable to take him into custody because thousands of acolytes have gathered to defend the temple. Dhammachayo was last seen in public in May but is believed to remain holed up inside.
At the Dhammakaya temple in Pathum Thani province, Boonyachayo, a monk and spokesman, thanked police Tuesday morning for their help protecting the temple against unspecified third parties he said might wish to harm its acolytes.
Dhammachayo was charged earlier this year with receiving funds stemming from massive multi-billion baht embezzlement from a credit union by its own executive, who is now serving a 16-year prison term. In November he was charged again with land encroachment for building a religious facility without a permit in Khao Yai National Park.
Related stories:
Dhammakaya Defies Order to Halt Broadcasts
Deadline For Dhammakaya Abbot To Surrender Expires, Again
Mass Charges Filed Against Dhammakaya Acolytes
After Show of Yielding, Powerful Dhammakaya Abbot Defies Authorities Again