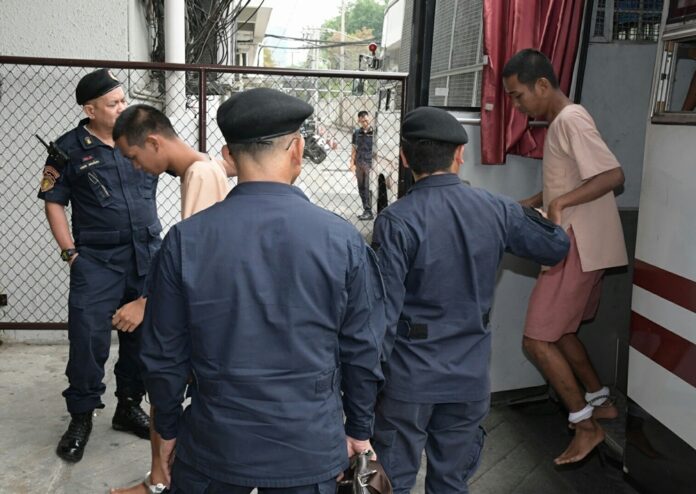 BANGKOK — Seven defendants were sentenced to between 12 and 19 years in prison for the savage murder of a disabled bread vendor in broad daylight nearly two years ago.
For the brutality of the murders, the Criminal Court sentenced four of the defendants to 18 years in prison for second-degree murder 20 months after they used knives and bricks to kill Somkiat Srichan in Bangkok's Lat Phrao district.
Two of the four were given an additional year for trespassing. Three others in the group got 12 years for participating in the murder, one of whom was also sentenced to an additional year for trespassing. All seven were ordered to pay a combined restitution of 1.25 million baht.
Stoned, Cornered and Knifed: Witness Recalls How Gang Killed Disabled Man
Akkaradet Thatsana and Arin Yodponganan received the stiffest sentences of 19 years for killing 35-year-old Somkiat. Peerapol Yodponganan and Monmanat Sangpho received 18 years. Jatuporn Chansopha was sentenced to a dozen years for aiding in the murder plus a year for trespassing.
Suspects No. 5 and 7; Mek Polkraisorn and the only woman in the group, Natnicha Ritlamlert; were sentenced to 12 years each for being accessories to the crime.
Four of Somkiat's murderers are sons of police officers: Peerapol, Monmanat, Mek and Arin.
Through their lawyer the family said it was satisfied with the verdict.
They maintained their initial disappointment from July 2016, when prosecutors filed lesser charges of second-degree murder against the seven suspects, who were between 18 and 22 at the time of the crime.
A key eyewitness said the young men had been drinking for hours by 8am when they taunted Somkiat, who was selling bread from a stall in Soi Chokchai 4.
When Somkiat shouted back at them, the six men use knives and bricks to stab and beat to death the man, who lacked the use of a leg and tried hopping away.
"Can you imagine seeing someone you know being murdered right in front of you?" Ananchai said several days after the murder. "He kept backing off. He was fleeing for his life. He was cornered in the end, but I couldn't help him."
Several of the suspects continued slashing at Somkiat's lifeless body, according to a police report of the incident, when officers arrived at the scene, prompting them to fire shots into the air to get control of the situation.
The entire murder was recorded on someone's mobile phone, and the footage went viral after it was posted on social media, drawing widespread attention to the case.
Writing, reporting Pravit Rojanaphruk and Todd Ruiz
Related stories:
Lesser Charges for 7 Accused of Killing Disabled Bread Vendor
Girlfriend of Disabled Man's Killer Arrested for Encouraging the Murder
'I Watched Him as He Died,' Witness to Disabled Man's Murder Recalls