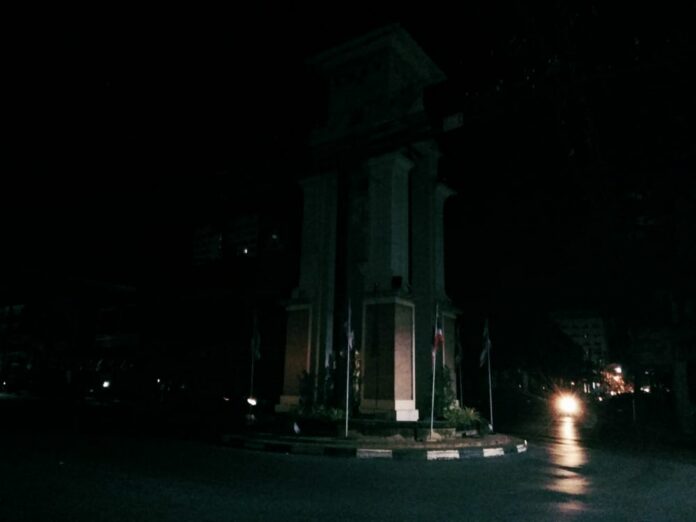 YALA — Several communities in southern Thailand spent Christmas Day in the dark after vandals bombed utility poles, torched phone boxes and damaged other property.
At about 5am on Monday, a number of unidentified perpetrators burned telecommunications equipment, bombed five utility poles, cut down trees, spread caltrops on a road and opened fire on a truck at several locations in Yala and Narathiwat provinces.
Households in parts of Yala's Betong district were affected by the blackout.
In Yala, four bombs went off on National Highway 410, causing five electrical utility poles to come down, one of which struck a passing vehicle. No injuries were reported.
Busaree Bouladreejing, a 26-year-old truck driver, was injured after his vehicle came under fire on Yala-Yaha Road.
In Narathiwat, four motorists in the Su-ngai Padi district were injured after their vehicle ran into trees which had been knocked down to block the roads.
Police have been investigating the incidents. No perpetrators were immediately identified, Col. Krissada Kaewchandee, commander of Yala Police, said Tuesday.
A long-running insurgency in the southernmost provinces that historically focused on officials, teachers and symbols of Bangkok's authority has expanded in recent years to include attacks on tourist sites and civilian targets. More than 7,000 people have died in nearly 14 years of conflict, according to Deep South Watch.
Deputy prime minister Prawit Wongsuwan said on Tuesday morning that he had ordered senior officers to investigate. Tight security will be implemented during the remaining holidays, Prawit said.