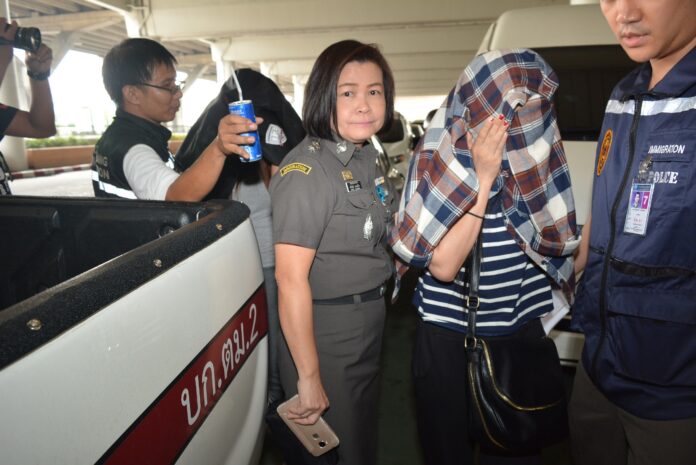 MUSCAT — Twenty-one women were back in Thailand today after being rescued from sexual slavery by police in Muscat, Oman.
The women, who were lured by promises of jobs, landed at Don Mueang International Airport on Sunday after being rescued in a joint effort by Omani police and Thai immigration officials, said Maj. Gen. Nattatorn Proasoonthorn of the Immigration Bureau.
In Thursday's rescue of the women, Omani police arrested two Thai nationals suspected of running the prostitution ring: Suphanan Yingphimai, 29, and Natnicha Kongprasith, 36. Two Omanis linked to the ring were still being sought by Omani police.
"The apartments we raided with the Omani police were completely normal looking from the outside," said Maj. Gen. Tachai Pitanilabut of immigration police, who flew to Muscat on Tuesday. "Inside we found women of various nationalities, packed into about six per room. Their average age was around early 20s to 30s."
Tachai said there were other women found in the building but would not disclose their nationalities.
Thursday's raid of two apartment buildings came after three women escaped from the same circumstances last month, which led to the arrest in Thailand of 27-year-old Palida Kleepbua. All three Thai nationals have been charged with human trafficking, running a prostitution ring, and pandering.
Nattatorn said the three Thai women who escaped earlier on Aug. 5 were lured through Facebook paid plane tickets and promises of a good salary at a massage parlor in Oman.
When they got there, their passports were confiscated by the Omanis who were part of the criminal operation. The women were forced into prostitution to pay back a debt of 160,000 baht, said their captors, and were threatened with violence if they attempted to escape.
The three women said they managed to escape with the help of Indian customers who took them to the authorities.
"Let this case be an example to Thai women who are thinking of working overseas to be cautious," Nattatorn said. "You could be tricked and forced into a torturous situation where you can't return to your country."