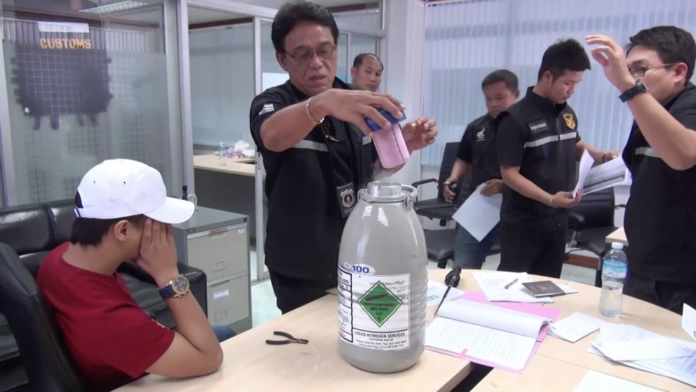 BANGKOK — Two of six bottles of semen found on a would-be smuggler at the border with Laos came from a Bangkok fertility clinic, Nong Khai border customs officials said Friday.
After Nithinon Srithaniyanant was arrested at a customs checkpoint in Nong Khai city with the six bottles in a nitrogen-cooled tank, authorities discovered Friday that two of the bottles had come from a fertility clinic in Bangkok. That clinic – Superior ART – denied having knowledge it might be illicitly exported.
Read: Suspected Semen Smuggler Snatched at Border
"After the clinic gives out the semen, the transaction is completed on our end. The clinic was unaware and completely uninvolved with the semen smuggling," Srayuth Assamkorn, the clinic's managing director said Friday. "We always tell our patients that exporting semen is against the law."
Commercial reproductive services became controversial after a string of incidents in recent years, including an Australian couple accused of abandoning a Down syndrome baby born to a Thai surrogate, a Japanese "super dad" who fathered at least 16 babies and a legal battle between a gay couple and their Thai surrogate. Commercial surrogacy was later banned, while fertility clinics are widespread.
The two bottles from Superior ART contained semen from Chinese and Vietnamese men, and was withdrawn from the sperm bank April 17 and 19 by a patient who had come in for counseling. The clinic did not disclose the name of the patient.
Nithinon said Thursday he had made several trips smuggling materials from Thailand to fertility clinics in Laos and Cambodia. On those trips, he would obtain semen, eggs or embryos from four fertility clinics in Bangkok: the Jetanin Institute for Assisted Reproduction, First Fertility PGS Center Limited, iBaby Fertility & Genetic Center and Superior ART.
Related stories:
Court Rules Dads Can Take Baby Carmen Home
Thai Government Bans Commercial Surrogacy