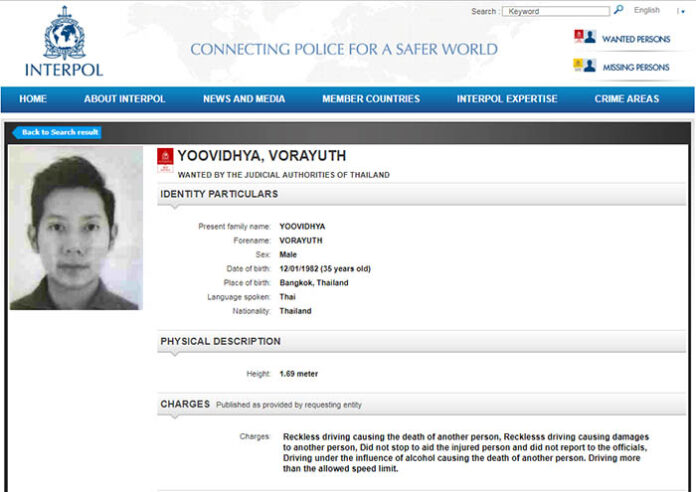 BANGKOK — Interpol has released a "wanted" listing for the heir to the Red Bull energy drink fortune who is accused in a car crash that killed a Bangkok police officer five years ago.
The international police network made the "red notice" for Vorayuth Yoovidhya viewable to the public on Monday. Law enforcement officials have been able to access the listing since last month.
Interpol says a red notice is a request to police forces around the world "to locate and provisionally arrest an individual, pending extradition."
Vorayuth, better known by his nickname "Boss," is wanted in connection with a hit-and-run incident in Bangkok in September 2012, in which a Thai policeman on motorbike patrol was struck and killed by a driver in a Ferrari.
He has avoided meeting prosecutors ever since, and his case has raised allegations that Thai authorities are lenient with wealthy suspects.
Vorayuth left Thailand in April, days before authorities finally issued an arrest warrant, and his Thai passports were later revoked. He went to Singapore and then to Taiwan, but his whereabouts since early May are unknown.
The suspect originally faced three charges, but only one remains because he has avoided authorities for so long. A speeding count expired in 2013, and a hit-and-run charge expired early this month. The statute of limitations for the last charge, causing death by reckless driving, runs out in 10 years.
Vorayuth's family owns about half of the Red Bull empire, which was co-founded by his grandfather. For more than four years after the crash, he lived a high-flying and even public life. Relying in part on public social-media posts from his family and friends, the AP found that Vorayuth had gone to Formula One races, snowboarded in Japan and cruised Venice, often flying in private Red Bull jets, and all while failing to show up for court dates.
Related stories:
After Taiwan Stop, Fugitive Red Bull Heir's Path a Mystery
Police Say Interpol Has Issued Notice for Red Bull Heir
Boss Red Bull's Family Cloaks Assets With Offshore Deals
Cops Finally Translate 'Boss Red Bull' Extradition Request