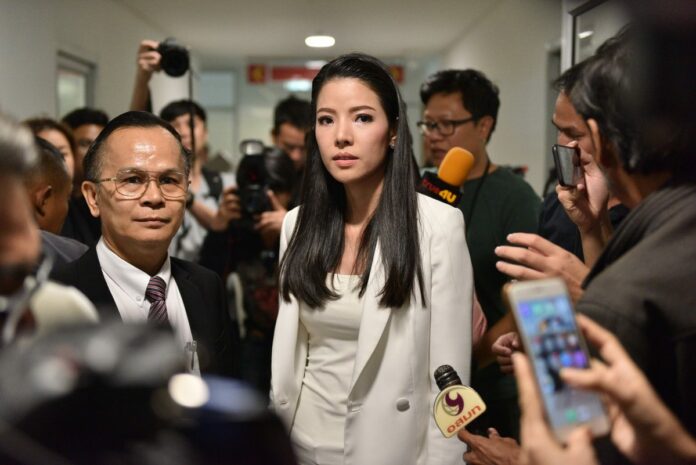 BANGKOK — A partial reflection in a dinner knife, a months-old zebra photo and a lot of innuendo were enough for virtual Thailand to pin a scarlet letter of shame on a television news anchor.
After being labeled by an internet witch hunt as a homewrecker, Orakarn "Kwang" Jirakiat filed a criminal complaint Monday against mostly unidentified social media users who accused her of committing adultery in a story she amounts to internet fanfiction.
Orakarn, a news anchor for channel True4U, filed a complaint at the Technology Crime Suppression Division against Facebook page Kum Kwan Tai Din (Underground Slogans) for accusing her of coming between married celebrity couple Songkran Tejanarong and Taksaorn "Aff" Tejanarong, who celeb media culture calls SongkranAff.
"I want this to be a lesson to everyone. Social media is so much scarier than I thought it could ever be," Kwang said Monday.
The sordid whispers began not long after Songkran, whose family owns a chain of resorts and several zoos, and Aff, a Channel 3 soap opera actress, announced they had separated Thursday.
Internet gossip spun out of control the next day.
Seemingly out of the blue, Kum Kwan Tai Din wrote Friday about a July Instagram photo of Kwang's showing a plate of food.
In online communities where wild suspicion can be passed off as incontrovertible evidence with little more more than a red circle, the post said Songkran's face could be seen reflected in a well-polished knife. Indeed a fragment of someone's face is visible – wearing sunglasses.
Netizens next seized upon a picture she posted in April of some zebras. Suspicious minds noted that, five days earlier, Songkran had posted about some new zebras at one of his family's zoos.
Photos showing that both Kwang and Sonkgran's estranged wife Aff owned the same brand of shoulder bag – Bao Bao – became evidence she was mocking the woman whose man she "stole."
Within hours, Kwang was being slammed on all of her social media channels with an outpouring of invective labeling her a "homewrecker," "husband stealer" and more.
Kwang offered plausible explanations for both photos, but the fever swamp of speculation had reached more appealing conclusions.
"The dinner table photo is a reflection of my own face," Kwang said Friday. "The zebra photo was taken at Safari World."
Kwang said she filed complaints against more than one page. She said in a Friday post to Instagram that she had only met Songkran once for a period of about three hours in the course of her work.
She has blamed an Instagram stalker that had been harassing her for some time before last week for inventing a rumor which took on a life of its own.
On Tuesday, police Col. Olan Sukasem said whoever was responsible did not violate the Computer Crime Act, but could potentially be prosecuted for criminal defamation. He said the case would be transferred to the Wang Thonglang Police Station.