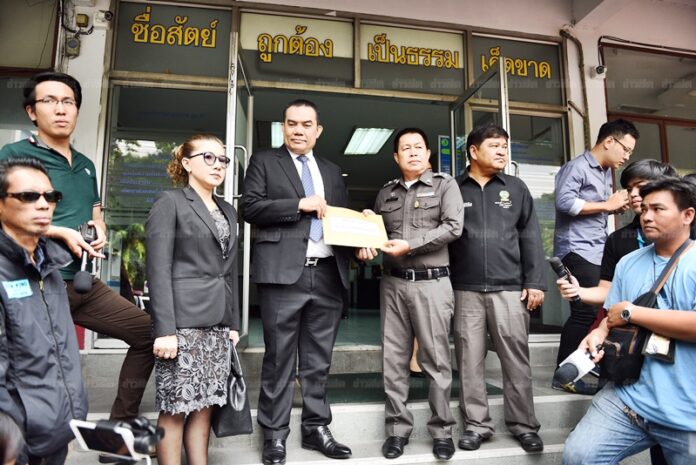 BANGKOK — A woman petitioned police for justice Tuesday, six months after her daughter was killed by a fallen electrical pole and tree.
Complaining no action has been taken other than the arrest of a gardener, Natpimol Somjet blamed the wealth and status of those she believes responsible for her daughter being crushed to death when a large, poorly maintained tree toppled onto a busy Bangkok road.
"I just want justice for my child's life," Natpimol said. "I understand the owner of the tree has a different social status, but all our lives are equal. You need to answer for what you did instead of keeping quiet."
Police refused to identify who owned the land where the tree stood.
"I can't tell you anything because it's under investigation for now. You will know when we finish writing up the file," police Col. Thatwatchakiat Jindakuansanong said Wednesday.
Read: Falling Tree, Utility Pole Kill Motorist at Chit Lom
The tree, which was found to have rotten roots, stood on the property of the Alma Link Building on Soi Chit Lom. The Alma Link Building is owned by B. Grimm Group, a 140-year-old conglomerate. B. Grimm is owned by the Link family and its chairman is Harald Link, according to Forbes' "Asia's Heroes of Philanthropy." On Wednesday, Forbes ranked 62-year-old Harald Link as No. 23 of Thailand's 50 wealthiest people with a net worth of USD$1.2 billion. He founded the Thai Polo and Equestrian Club.
Attempts to reach Harald Link were not successful. Calls to the Alma Link Building, polo club and B. Grimm were all referred to other buildings or enterprises he owns.
On May 13, 25-year-old Nitchapat Somjet was riding her motorcycle past the Alma Link Building, which is adjacent to Central Chidlom, when an electrical pole – brought down by the falling tree – crushed her.
Natpimol's lawyer Wichean Chuptaisong on Wednesday also declined to name the building's owner other than to say he was an "elderly farang man," saying that the case was "still under investigation."
Natpimol said she heard nothing from the building's owner or lawyers since her daughter's funeral, when she was given cash from the man to pay for the funeral. She hoped her daughter's death would be a lesson and draw attention to the negligence, poorly maintained trees or above-ground electrical wiring, that can result in such deadly accidents.
"If my daughter's life had to be traded for Thailand to change, I would be glad. But everything has stayed the same. There's no value put on human life," she said.
She said she was not driven by money.
"If you had kept in contact and said you only had 100 baht or even nothing to offer, we could still talk," Natpimol said.
Wichean, who accompanied her to the police station Tuesday, told reporters that police had only taken a statement from a couple of people and had not spoken to the Alma Link owner.
The fallen tree, on the right, as seen in November 2016.
"He kept putting the police off, at least two to three times. He said he was busy or out of the country. If the police had seriously issued a summons, then this case would have been done in two months," Wichean said. "This isn't a complicated case. The facts are clear, especially when compared to other cases," the lawyer said.
Wichean said one of the only actions taken was charging a gardener – not the building owner – with fatal recklessness.
Two other motorists were injured when the electrical pole was felled by the falling tree in May. Later in May, Nitchapat received 150,000 baht in compensation for her daughter's death to pay for the funeral which the "elderly farang man" attended, and 30,000 baht was reportedly given to the other people injured.
In the same month, the Metropolitan Electricity Authority paid 20,000 baht in compensation to Nitchapat's family, with Deputy Chief Theerawat Thepamnuaysuk offering an apology and asking private landowners not to plant large trees or billboards near utility poles.
"When the case ends, I believe my daughter will finally rest in peace," the mother said.
Related stories: